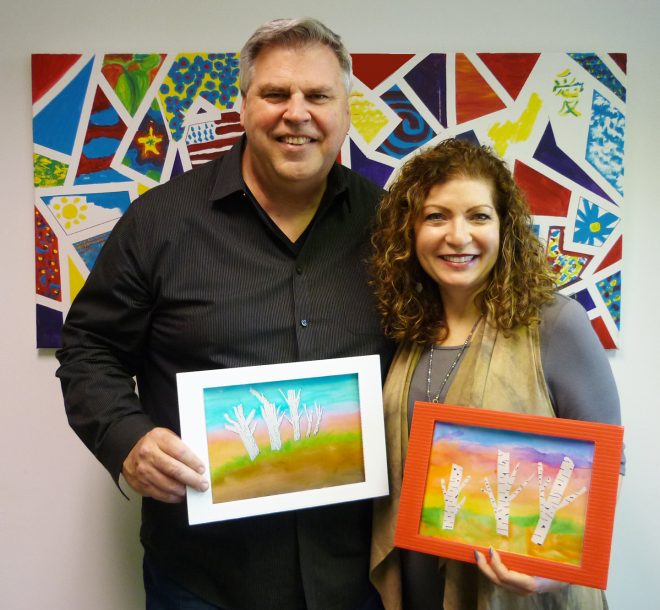 NEWS: Abrakadoodle Welcomes Newest Location – Oakland County, MI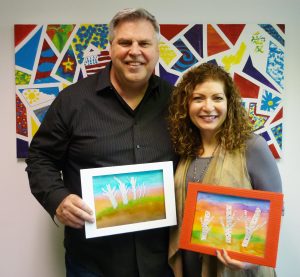 Sterling, VA, May 15, 2018 – Abrakadoodle is pleased to welcome new franchisees Anna and Chris Firestone of Farmington Hills, MI to its newest franchise territory serving Oakland County. They will be bringing award-winning creative, mobile art programs to benefit children and adults. The Firestone's will be offering Abrakadoodle's visual arts classes, camps, workshops, in-school field trips, special events and arty parties delivered at schools, community centers, and other sites that are accessible to members of the community. New franchise owners are assigned a Crayola® color, and the Firestone's said they are honored by their "Spring Green" color designation, which signifies new growth, harmony and freshness and is a pure chroma on the color wheel. Abrakadoodle also offers creative art programs and social art parties and events through its Art Splash program, which is designed specifically for adults. Abrakadoodle will be serving Oakland County to include Birmingham, Bloomfield Hills, West Bloomfield, Farmington Hills, Milford, Novi, Southfield and Wixom. Learn more about Abrakadoodle Oakland County by visiting www.abrakadoodle.com/mi-south-oakland-county/.
"We are pleased to welcome Anna and Chris to our award-winning Abrakadoodle franchise system," said Rosemarie Hartnett, CFE, President and Co-Founder of Abrakadoodle, Inc. "The Firestone's bring strong business, art and advertising skills that will serve them well in developing a vibrant business."
"We're right-brained," stated the Firestone's, who designed the home in which they reside. The creative pair met while working at ad agencies. Chris Firestone grew up drawing and painting. He attended college while in the Air Force. Chris later settled into a creative career in which he was an illustrator and art director. He has been managing his mobile app business for the past 10 years. Chris has created/produced successful projects with global brands that serve kids, such as 'zoom zoom' for Mazda, STEM apps for the US Navy, mobile healthcare focused games for kids and much more! Anna showed an early interest in the arts and following a co-op in high school, she obtained her Associate's degree in business and enjoyed a career in media including working as an assistant editor. Together the couple have two sets of twins and Chris has two daughters, as well as two young grandchildren. According to Chris, "I wanted a home-based franchise that would allow us to take advantage of our skills, and Abrakadoodle's combination of art and kids was a great fit." Anna commented, "I am excited about the opportunity to teach kids and love the excitement on kids' faces when they get creative."
Abrakadoodle Oakland County is hiring teachers. If you enjoy art and working with children, contact Chris Firestone at cfirestone@abrakadoodle.com to inquire about employment opportunities. To learn more about creative art programs or to bring Abrakadoodle classes and activities to your location, please visit www.abrakadoodle.com/mi-south-oakland-county/ or contact Anna Firestone at afirestone@abrakadoodle.com or call (248) 657-4ART. Visit Abrakadoodle Oakland County on Facebook for program updates.
Sterling, VA-based Abrakadoodle (www.abrakadoodle.com) was co-founded in 2002 by award-winning educators/franchise developers Mary Rogers, MA. Ed (ret), and Rosemarie Hartnett, CFE, President. Abrakadoodle is the most comprehensive creativity and art education company of its kind, offering extensive visual arts classes, camps and parties for children ages 20 months to 14 years old at locations across the U.S. and in several international locations. Abrakadoodle's programs inspire children's imaginations by immersing them in such art forms as painting, sculpting, drawing, mosaics, collage, stamping, anime, paper & fabric art and much more at schools and other community locations. Abrakadoodle's Art Splash program features creative art parties and events designed for adult "artventurers."
# # # # #
Abrakadoodle and the Abrakadoodle logo are registered trademarks. Copyright © 2018 Abrakadoodle, Inc.   All rights reserved.