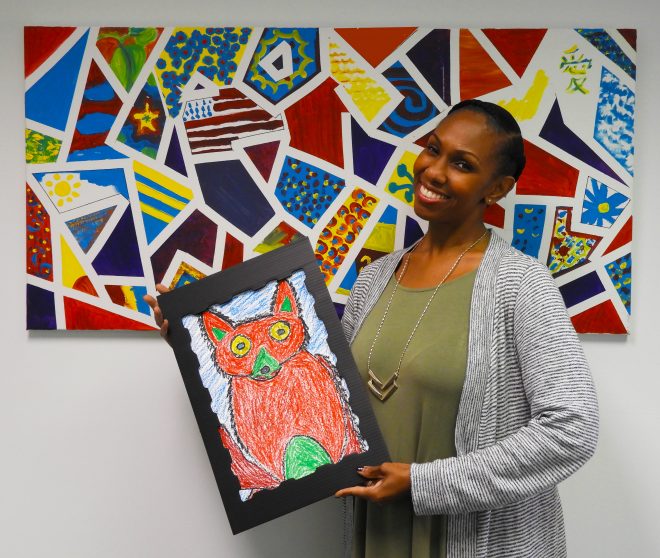 NEWS — Abrakadoodle Welcomes Newest Location: Northern Westchester County, NY
Sterling, VA, November 7, 2019 – Abrakadoodle is pleased to welcome new franchise owner Caroline Onwuemeli-Peters of Peekskill, New York as she embarks on developing her art education franchise that will serve Northern Westchester County, NY. She will be bringing creative, mobile art programs to benefit children in her community. Mrs. Peters will be offering Abrakadoodle's award-winning visual arts classes, camps, workshops, in-school field trips, special events and arty parties delivered at schools, community centers, and other community sites. "Abrakadoodle puts children at the forefront of learning," remarked Mrs. Peters. "The process art methodology that encourages children to express their authentic creative voice is a big part of what attracted me to this concept."  New franchise owners are assigned a Crayola® color, and Caroline said she is 'tickled pink' by her rich "Violet Red" color designation, which is a bright tone of red-violet in a medium pink hue. In addition to its award-winning art education programs, Abrakadoodle also offers creative art programs and social art parties and events through its Art Splash program, which is designed specifically for adults. Abrakadoodle also provides face painting for parties and community events through its Arty Faces program, and Caroline reports that she will be providing face painting for a young child's birthday party on November 30th. Abrakadoodle will be serving Northern Westchester County to include Peekskill, Cortlandt, Crotan-on-Hudson, Ossining, Yorktown, Sleep Hollow and other surrounding areas. Learn more about Abrakadoodle Northern Westchester County and request services by visiting https://www.abrakadoodle.com/ny-northern-westchester-county/), call Caroline Peters at (914) 987-6828 or via email at cpeters@abrakadoodle.com.
"We are delighted to welcome Caroline to our award-winning Abrakadoodle franchise system," said Rosemarie Hartnett, CFE, President and Co-Founder of Abrakadoodle, Inc. "Caroline brings a wonderful background in education and a passion for art that will serve her well in developing a vibrant business."
Caroline Onwuemeli-Peters has for the past 13 years worked as an IEP Coordinator and Special Education Teacher for the NYC Department of Education and the City School District of New Rochelle. Throughout her career, Caroline has been a New Teacher Mentor and a member of Educators for Excellence. She received her bachelor's degree in English Literature with a minor in Spanish from Florida State University in 2004 and went on to earn a MS in Urban Education and Leadership from Mercy College in 2008 and a Master's degree in Educational Leadership and Administration from City University of New York College in 2017. Caroline has also been an Adjunct Professor at Mercy College. In addition to her advanced degrees, Caroline acquired a certification in Culinary Arts at the International Culinary Institution in New York City in 2011. She is a member of Delta Sigma Theta Sorority, Inc. Caroline's passion for art began in high school, where she enjoyed drawing and sculpting. When she embarked in world travel in 2003, she appreciated art at galleries and historic sites that left a lasting impression. It was during a conference in which Michelle Obama presented remarks about achieving a work/life balance that Caroline decided to use her skills to open a business in her community that will enrich children, create jobs, celebrate diversity and provide her with a leadership role by opening a franchise business. With her love of art and education, Abrakadoodle was a natural fit. Caroline is married to an educator and they have a seven-year old son, Donald Peters III.
Abrakadoodle of Northern Westchester is hiring teachers. If you enjoy art and working with children, contact Caroline Peters to inquire about employment opportunities. To learn more about creative art programs or to bring Abrakadoodle classes and activities to your location, please visit https://www.abrakadoodle.com/ny-northern-westchester-county/; contact Caroline Peters via email cpeters@abrakadoodle.com or call (914) 987-6828. Visit Abrakadoodle Northern Westchester County on Facebook for program updates.
Sterling, VA-based Abrakadoodle (www.abrakadoodle.com) was co-founded in 2002 by award-winning educators/franchise developers Mary Rogers, MA. Ed (ret), and Rosemarie Hartnett, CFE, President. Abrakadoodle is the most comprehensive creativity and art education company of its kind, offering extensive visual arts classes, camps and parties for children ages 20 months to 14 years old at locations across the U.S. and in several international locations. Abrakadoodle's programs inspire children's imaginations by immersing them in such art forms as painting, sculpting, drawing, mosaics, collage, stamping, anime, paper & fabric art and much more at schools and other community locations. Abrakadoodle's Art Splash program features creative art parties and events designed for adult "artventurers."
# # # # #