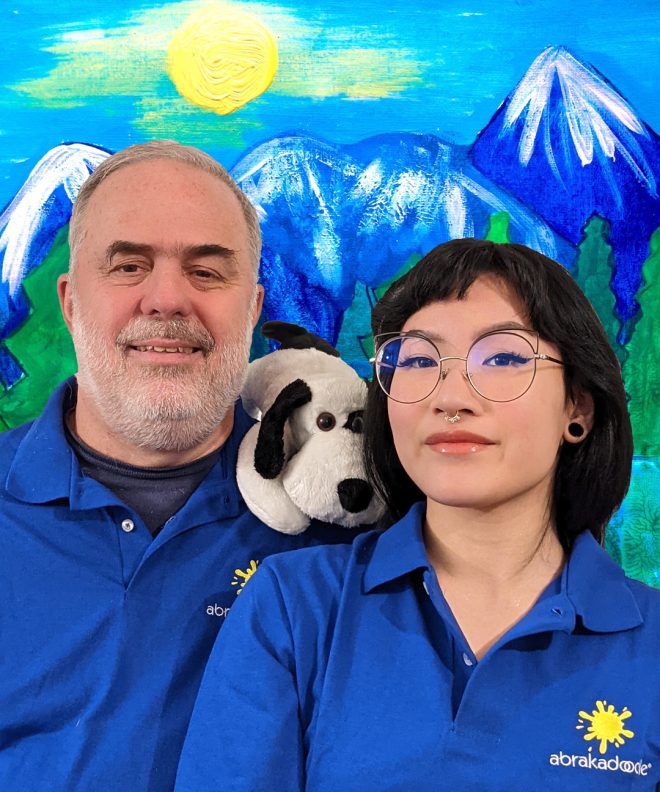 NEWS — Abrakadoodle Announces Newest Franchise Location: Suburbs of Boston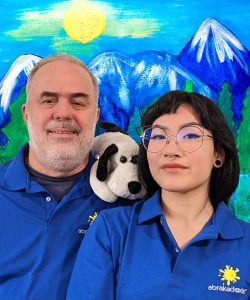 Sterling, VA, January 2021 – Abrakadoodle is pleased to welcome new franchise owners Nate and Ande Gibson (photo, right) of Newton, Massachusetts. The father/daughter duo are launching their art education franchise that will serve the Suburbs of Boston to include Newton, Belmont, Brookline, Needham, Watertown, Wellesley, Weston and Wayland. Abrakadoodle Suburbs of Boston will be bringing creative, mobile art programs to benefit children in the community. Abrakadoodle's award-winning visual arts classes, camps, workshops, in-school field trips, special events and arty parties are delivered at schools, community centers, and other community sites. During 2020 Abrakadoodle expanded its offerings to include complete online learning programs to bring virtual art learning directly to students. With Ande's art background and Nate's business expertise, the Gibson's are launching their family-owned and operated business. Ande remarked, "My entire life has focused upon art. Abrakadoodle's solid art curriculum and reputation for high-quality art programming, along with a proven business model was very appealing to me, as was the opportunity to positively impact children in my community with an innovative program."
Abrakadoodle academic art programs are offered at more charter schools, elementary schools and pre-K programs than any other program. Schools that partner with Abrakadoodle gain from the comprehensive academic art program that provides students with experiences with a wide variety of materials, techniques, styles and more. Students use specialty art materials, learn about contemporary and master artists, explore art from around the world, work in two and three dimensions and much more. A team of experienced artists and educators design the Abrakadoodle curriculum and focus upon providing a balanced program that sequentially builds both skills and knowledge. In addition to its art education programs, Abrakadoodle also offers creative art programs and social art parties and events through its Art Splash program, which is designed specifically for adults. Abrakadoodle also offers face painting for parties and community events. Learn more about Abrakadoodle Suburbs of Boston and request services by visiting https://www.abrakadoodle.com/ma-suburbs-of-boston/, call Ande Gibson at (617) 527-2856 or via email at agibson@abrakadoodle.com.
"We are delighted to welcome Ande and Nate to our award-winning Abrakadoodle franchise system," said Rosemarie Hartnett, CFE, President and Co-Founder of Abrakadoodle, Inc. "The Gibson's are a dynamic father/daughter duo with both visual arts and business expertise, as well as a genuine desire to make a difference in the lives of children, which will serve them well in developing a vibrant business."
Nate grew up in Belmont, attended Harvard College and Boston University School of Law and has lived in Newton for 22 years. Nate brings broad business experience to Abrakadoodle Suburbs of Boston. He remarked, "I look forward to working with my daughter to establish partnerships with schools and community sites to bring outstanding creative art programming to benefit kids in the suburbs of Boston." Ande Gibson attended the Arlington School and studied art. She has managed a small business and has produced commissioned art. "I love art," said Ande. "With a shared philosophy of the importance of process art and creativity, I am excited to engage children in impactful visual arts learning."
To learn more about creative art programs or to bring Abrakadoodle classes and activities to your location (online or onsite), please visit https://www.abrakadoodle.com/ma-suburbs-of-boston/; contact Ande Gibson via email agibson@abrakadoodle.com or call (617) 527-2856. Visit Abrakadoodle Suburbs of Boston on Facebook for program updates.
Sterling, VA-based Abrakadoodle (www.abrakadoodle.com) was co-founded in 2002 by award-winning educators/franchise developers Mary Rogers, MA. Ed (ret), and Rosemarie Hartnett, CFE, President. Abrakadoodle is the most comprehensive creativity and art education company of its kind, offering extensive onsite and online visual arts classes, camps and parties for children ages 20 months to 14 years old at locations across the U.S. and in several international locations. Abrakadoodle's programs inspire children's imaginations by immersing them in such art forms as painting, sculpting, drawing, mosaics, collage, stamping, anime, paper & fabric art and much more at schools and other community locations. Abrakadoodle's Art Splash program features creative art parties and events designed for adults.
# # # # #
Abrakadoodle and the Abrakadoodle logo are registered trademarks. Copyright © 2021 Abrakadoodle, Inc.   All rights reserved.