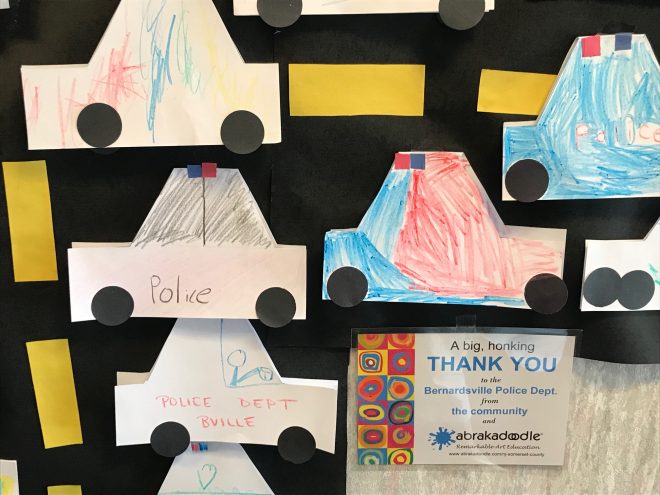 A Big Honking Thank You for Bernardsville PD
News Release
Bernardsville, NJ, August 13, 2021 – Abrakadoodle Somerset County led children in a fun arts and crafts activity as part of National Night Out held August 3. When Laura Shabazz, Educational Director/Owner of Abrakadoodle Somerset County found out that the police would be hosting the final movie event rather than the recreation department, she seized on the opportunity. "I thought that thanking the police would be particularly timely after Covid when first responders and essential workers have been working so hard," remarked Mrs. Shabazz.
Abrakadoodle printed and cut out cars and trucks so that community participants could color them and write personalized thank you notes. On Wednesday, August 11, Laura, with husband/ business partner Shaheed and daughter Zoey, decorated the police station walls with the colorful creations with assistance from Patrolman Timothy Richard. "We amassed 58 vehicles with thank you notes, made by both adults and children, and we mounted them on black paper to give the impression of roadways," described Mrs. Shabazz. The installation is open to the community to enjoy in the public hallway at the Bernardsville Police Station.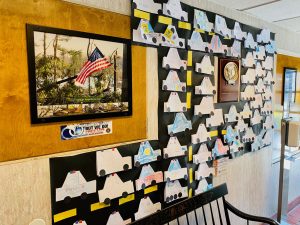 Abrakadoodle Somerset County opened their mobile art education business in late June and offers both online and onsite creative art classes, camps, workshops, in-school field trips, arty parties and special events at schools and community sites for ages 20 months and up. In fact, you may have seen them at the Bernardsville Starbucks the week of August 2-6 during their Cartoon Creations camp. Abrakadoodle will be back in the community with art activities for Bridgewater Community Day from 11 am – 3 pm on Sunday, September 12 in parking lot 9 of the Bridgewater Commons Mall. Abrakadoodle will also provide art activities during the Bernardsville Fitness and Wellness Fair from 9 am – 1 pm on September 18.
Learn more about Abrakadoodle Somerset County by visiting Abrakadoodle NJ: Somerset County – Abrakadoodle, call 908-367-3131, email sshabazz@abrakadoodle.com or connect on Facebook @AbrakadoodleSomersetcountyNJ and Instagram @Abrakadoodle_SomersetCountyNJ.
About Abrakadoodle: Sterling, VA-based Abrakadoodle (www.abrakadoodle.com) was co-founded in 2002 by award-winning educators/franchise developers Mary Rogers, MA. Ed (ret), and Rosemarie Hartnett, CFE, President. Abrakadoodle is the most comprehensive creativity and art education company of its kind, offering extensive visual arts classes, camps and parties for children ages 20 months to 14 years old at locations across the U.S. and in several international locations. Abrakadoodle's programs inspire children's imaginations by immersing them in such art forms as painting, sculpting, drawing, mosaics, collage, stamping, anime, paper & fabric art and much more at schools and other community locations. Abrakadoodle's Art Splash program features creative art parties and events designed for adults who want to get creative and have a blast.
# # # # #
Abrakadoodle and the Abrakadoodle logo are registered trademarks. Copyright © 2021 Abrakadoodle, Inc.   All rights reserved.