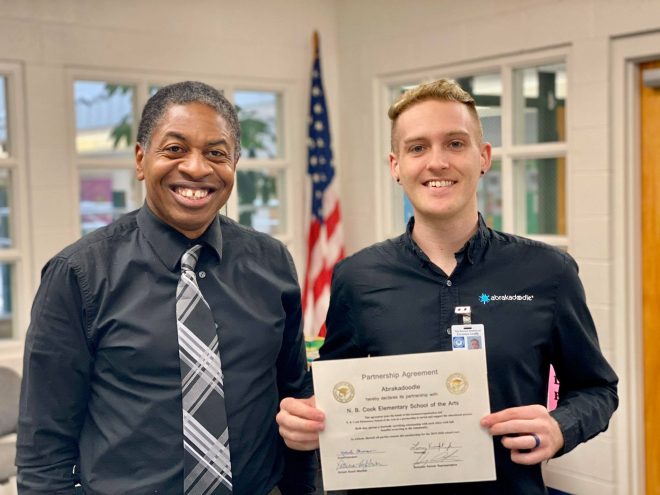 Partners in Education: Abrakadoodle Pensacola Joins Forces with N.B. Cook Elementary School of the Arts
Abrakadoodle Pensacola is extending creative learning opportunities for students in the community thanks to a formal partnership with N.B. Cook Elementary School of the Arts. The public/private partnership, which was signed in February 2020, will benefit students with creative art education to support the mission "to provide an environment that creates opportunities for all students to achieve their highest potential while building a foundation for continuous learning." As a Community/Business member on the School Advisory Council of N.B. Cook Elementary School of the Arts, Colby Detwiler, Educational Director of Abrakadoodle Pensacola is enthusiastic about this partnership. "I am excited about the opportunity to deepen student learning through the visual arts," Colby commented. "Abrakadoodle Pensacola looks forward to further enlivening the N.B. Cook school community with creative and vibrant art activities." In addition to conducting Monday after school art classes, Abrakadoodle Pensacola will join N.B. Cook family event offerings, such as providing art activities during family STEAM Night, during which Abrakadoodle will engage students with its highly regarded art lessons that focus on Science, Technology, Engineering and Math with Art as the creative motor to STEAM ahead with 21st Century skill-building. Abrakadoodle Pensacola will also bring fun face painting for the PTA sponsored WinterFest, as well as take part in Family Art Night.
Larry Knight, Principal of N.B. Cook Elementary School of the Arts met Colby at Pensacon in 2019 and engaged Abrakadoodle Pensacola to provide fall after school art classes. Principal Knight extended the offer of a school partnership after witnessing the positive impact of Abrakadoodle's after school program and envisioning more ways to bring high quality Abrakadoodle art to benefit his school community. N.B. Cook Elementary School of the Arts is a magnet school within the Escambia County School District and serves students in grades K-5.
"I congratulate Colby on his partnership with this magnet school for the arts," remarked Rosemarie Hartnett, President & Co-Founder of Abrakadoodle. "With his passion for art and arts education, I know he will bring such a wonderful creative energy to this school community which will benefit and delight all involved."