NEWS: Abrakadoodle Welcomes Newest Location: West End Richmond, VA
Educator/Coach Trevor Lampman acquires art franchise; launches children's art and creativity programs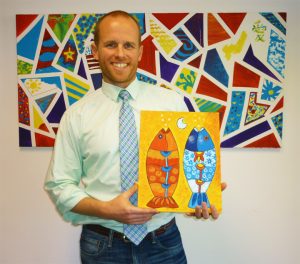 Sterling, VA, April 2, 2018 – Abrakadoodle is pleased to welcome new franchisee Trevor Lampman, M.A.T., of Richmond, Virginia to its newest franchise territory serving the West End Richmond and will be bringing award-winning creative, mobile art programs to benefit children and adults. Mr. Lampman will be offering Abrakadoodle's visual arts classes, camps, workshops, in-school field trips, special events and arty parties delivered at schools, community centers, and other sites that are accessible to members of the community. New franchise owners are assigned a Crayola® color, and Trevor said he is honored with his "Indigo" color designation, which signifies integrity and reflects great devotion, wisdom and fairness, as well as stimulates creative activity and helps with spatial skills. Abrakadoodle also offers creative art programs and social art parties and events through its Art Splash program, which is designed specifically for adults. Abrakadoodle will be serving the greater Richmond area to include Goochland, Powhatan, Mechanicsville, Bon Air, Dumbarton, Glen Allen, Henrico, Lakeside, Lorraine, Midlothian, North Chesterfield, Short Pump and Tuckahoe. Learn more about Abrakadoodle West End Richmond by visiting http://www.abrakadoodle.com/va-west-end-richmond/.
"We are pleased to welcome Trevor to our award-winning Abrakadoodle franchise system," said Rosemarie Hartnett, CFE, President and Co-Founder of Abrakadoodle, Inc. "Trevor brings a strong background in education and coaching that will equip him as he builds a vibrant business."
Trevor Lampman obtained his Bachelor of Arts in History and earned a Master's of the Arts in Teaching (M.A.T.) from Winthrop University. Most recently, Lampman has spent five and a half years working as a teacher with Henrico County Public Schools. He has 10 years of teaching experience in social studies and PE for elementary, middle and high school students. With a passion for sports, Trevor has also coached basketball at Western Carolina University and Highpoint, as well as served as a varsity coach for public and private high schools. He has also volunteered as a sports coach for basketball and soccer. Trevor said, "I believe I am a better leader and communicator because of my coaching and teaching experiences." He remarked, "I love the visual arts and was most proud to be selected as a young person for the South Carolina Governor's School for the Arts & Humanities. I am excited to combine my teaching experience with my love of the arts to make a difference in children's lives." The father of two daughters, Lampman appreciates how operating his own business will enable him to balance his lifestyle.
Abrakadoodle Richmond is hiring teachers. If you enjoy art and working with children, contact Trevor Lampman to inquire about employment opportunities. To learn more about creative art programs or to bring Abrakadoodle classes and activities to your location, please go to http://www.abrakadoodle.com/va-west-end-richmond/  or contact Trevor Lampman at tlampman@abrakadoodle.com or call (804) 599-1054. Visit Abrakadoodle West End-Richmond on Facebook for program updates.
Sterling, VA-based Abrakadoodle (www.abrakadoodle.com) was co-founded in 2002 by award-winning educators/franchise developers Mary Rogers, MA. Ed (ret), and Rosemarie Hartnett, CFE, President. Abrakadoodle is the most comprehensive creativity and art education company of its kind, offering extensive visual arts classes, camps and parties for children ages 20 months to 14 years old at locations across the U.S. and in several international locations. Abrakadoodle's programs inspire children's imaginations by immersing them in such art forms as painting, sculpting, drawing, mosaics, collage, stamping, anime, paper & fabric art and much more at schools and other community locations. Abrakadoodle's Art Splash program features creative art parties and events designed for adult "artventurers."
# # # # #
Abrakadoodle and the Abrakadoodle logo are registered trademarks. Copyright © 2018 Abrakadoodle, Inc.   All rights reserved.