Abrakadoodle Is a Colorful Company

In 2002, building upon a love of education, a passion for art as well as a growing need, Mary Rogers and Rosemarie Hartnett developed an innovative comprehensive art education program called Abrakadoodle. They initially launched the program at schools and community sites in Northern Virginia and discovered that it was a hit. Both co-founders bring a wealth of experience in delivering quality educational programming to kids and recognized that Abrakadoodle was a great fit for franchising. They knew there was a void in comprehensive children's visual art education that also fosters a child's imagination.
Many schools have cut back on art programs. This is disappointing because properly delivered art instruction is a way to stimulate young minds in important ways that go far beyond painting, designing or sculpting.
Abrakadoodle applies solid educational principles, great teaching practices, stimulating activities and high quality materials. Best of all, it's FUN for kids! Children around the world just love the program because it is enjoyable, builds upon their natural curiosity and lets them explore in imaginative ways.
And by early 2013, more than one-million Kids have participated in Abrakadoodle programs. All of us at Abrakadoodle are pleased to help children immerse themselves in creative pursuits filled with doodles, color, designs, squiggles and giggles.
Abrakadoodle has been featured in more than 100 articles in print and online including these recent articles below. For more press including releases and news, visit our Pressroom. For media inquiries, contact Karin Machusic: Karin@abrakadoodle.com home office (925) 524-4334 or corporate HQ (703) 860-6570.

WE OFFER OUR ARTS FOR ALL PROGRAM
Each year we support Abrakadoodle programs in the community for students and communities that can not afford to participate. Our franchise owners also give back in their respective communities to help make art more accessible to underserved students.

WE STRIVE TO BE THE BEST WE CAN BE
We survey parents and administrators to learn about how we can provide the best possible programs for kids. We are pleased that Abrakadoodle received 10 Parent Picks from Nickelodeon for "Best Art Class to Bring Out Your Child's Inner Picasso" and "Best Party Entertainer" as well as multiple regional awards.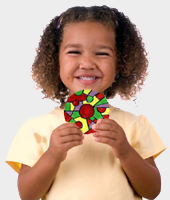 WE ENCOURAGE ECO FRIENDLY PRACTICES
Abrakadoodle has received two awards for eco friendly practices for the Abrakadoodle curriculum that uses recycled materials and teaches kids how to make eco-friendly art, as well as for our earth friendly papers that are made with recycled content.
Fabulous Female Franchise Founders