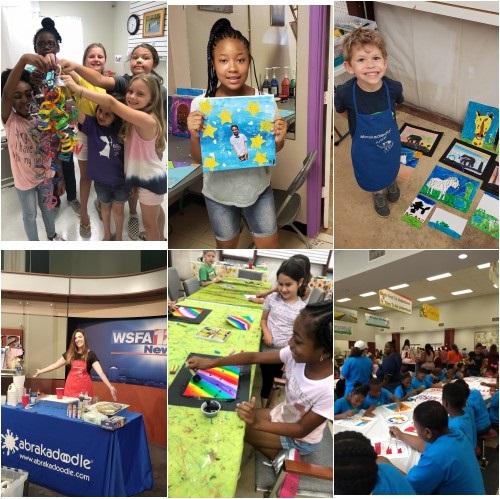 Brand Ambassador Spotlight: Margaret Cornwell of Abrakadoodle Montgomery, Alabama
Smart. Capable. Energetic. Compassionate. One could go on and on with accolades that describe Margaret Cornwell, the Abrakadoodle teacher/manager turned franchise owner and director of Abrakadoodle Montgomery, Alabama. For more than a decade, Margaret has been devoted to delivering excellence in children's art education and has helped reach more than 12,000 children with highly reviewed, award-winning art classes, camps and more. Her hard work and dedication in bringing art to children in need was recognized in 2017 with a national IFA Franchising Gives Back Award for her community service initiatives that included leading a creativity workshop for Leadership Montgomery as well as her series of free art classes to benefit children and young adults at the Brantwood Children's Home. Margaret continues to work with a variety of organizations and community groups to bring meaningful art programs to enliven her community. Abrakadoodle is focusing its Brand Ambassador spotlight on Margaret and her team for some sensational summer activities that make our brand shine.
"Margaret epitomizes what is at the heart of Abrakadoodle," declared Rosemarie Hartnett, Co-Founder and President of Abrakadoodle. "Our program is dedicated to bringing the very best in art education to all children in the communities we serve. Margaret's tireless efforts are a true testament to her leadership and her genuine care for the thousands of children she has reached through Abrakadoodle."
In mid-June 2019, Margaret partnered with the Lake Martin Area United Way to provide an art workshop for 275 youngsters as part of the United Way's summer series. Children from churches and various organizations took part in reading, STEAM and art activities. Abrakadoodle guided participants to use their imaginations to create artwork celebrating Alabama's Bicentennial. During June, Margaret also provided a themed art experience for approximately 40 children in conjunction with the Montgomery Area Down Syndrome Outreach Group. She has been very active with this organization, supporting their Buddy Walk with face painting and conducting art workshops for about eight years running. "The joy of making art with our special needs students warms my heart and is immensely rewarding," Margaret commented. "They face words like "no", "can't" and "too hard" often in their lives, and I appreciate the opportunity to provide a safe and happy place for them to express their creativity and learn new skills."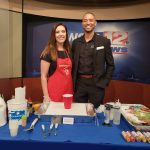 Margaret wrapped up June with an interview for a live podcast with Julian Petty, a Montgomery entrepreneur. Mr. Petty invited Margaret to partner with him to bring adult art workshops to his new flexible work and venue space, known as "The work/Shop," and both art workshops sold out. During her introductory podcast appearance with Mr. Petty, Margaret shared her community leadership experience and talked about art, creativity and entrepreneurship. "Some traits you see in creative children include the ability to solve problems, explore ideas, appreciate other perspectives, innovate and create something new," Margaret remarked. "I remain very enthusiastic about my role in bringing creative art education to children in Montgomery."
Margaret's work has not gone unnoticed thanks to a feature profile published this July by the Montgomery Area Chamber of Commerce. In mid-July, Margaret partnered with Kevin King, a local artist and owner of King's Canvas to provide a healing art activity for teen leaders from Common Ground Montgomery, leadership development program for at-risk youth serving the Washington Park and Gibbs Village communities. Tragically, a young member of Common Ground, 16-year old Jaylan Saunders, died early in 2019 as a result of gun violence. Margaret said, "I was impressed by how the young Common Ground participants took time to flip through photos of their friend Jaylan, and many of the prints included them, which must have been painful. Yet the resulting collage artwork was personal, meaningful and honored Jaylan." Margaret is deeply connected to her community and is invested in making a difference with the Abrakadoodle creative art program.
In 2018, Margaret garnered Abrakadoodle's Splat Award for creative promotion of the Abrakadoodle brand with her Pop-Up Abrakadoodle Art Studio, which she used to provide summer art programming in Montgomery. This year she brought back her Pop-Up Camps at the new Pike Road Arts Center, which helped to raise awareness for this new community arts destination. She delivered five well-attended art camps for area kids. On July 28th Abrakadoodle of Montgomery is partnering with the Shoppes at EastChase to provide face painting for SHINDIG, a family-friendly event with proceeds benefiting Child Protect, Children's Advocacy Center, a Montgomery nonprofit that assist local investigators with child abuse cases. Looking ahead, Margaret will be continuing to provide weekly after school art classes, which she has done for seven years, as part of a 21st Century Grant for Discovery Days at Prattville Elementary. She is currently starting Abrakadoodle Montgomery's 15th school year of programming opportunities with schools and community sites and anticipates a robust fall schedule at over 40 sites. Margaret is a finalist for the 2019 MGM Impact Maker Awards, and we congratulate her for making such a positive difference in her community.