Student-Inspired "Painting with Parents" Event Celebrates Community, Achievement
Forging community engagement with schools is a goal of many and was well-exemplified once again as a result of a strong partnership between Abrakadoodle Detroit and the Voyageur School District. Advanced Placement (AP) Voyageur College Prep High School students competed in an Abrakadoodle art contest, and art by the top three winners were used as inspiration pieces during the paint night event.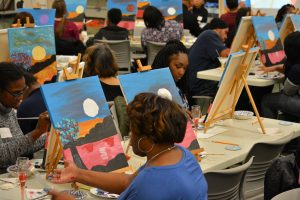 According to Dawna Kelly, Program Director/Owner of Abrakadoodle Detroit, "Painting with Parents in the Voyageur School District was another successful event!"  In its 4th consecutive year hosted by Voyageur College Prep High School, this much-anticipated event was held on Thursday, November 21st, with approximately 80 parents and board members gathered to celebrate quality education and creative expression.
An Abrakadoodle Detroit teacher facilitated the painting project, while the AP students assisted with the set-up, serving food to guests, as well as the clean-up. Music, delicious food and lots of interaction made for a fun and inspiring event. Abrakadoodle Detroit has been partnering with the Voyageur District for 10 years and has teachers overseeing two programs in the Voyageur School District to include Mrs. Halpin at the Voyageur College Prep High School and Mrs. Barber at the Voyageur Academy K-8 school.
Voyageur Academy is a free, public charter school serving students grades K-12 and is located at 4321 Military Street in Detroit, Michigan. Abrakadoodle's school partnership programs bring art together with academics during the school day, providing standards-based visual arts education that is culturally rich and integrates art into core subject matter to deepen learning. We salute Dawna and Al Kelly of Abrakadoodle Detroit and their dedicated teachers for enlivening their community with art and for taking a leading role in giving back to the school community they serve!