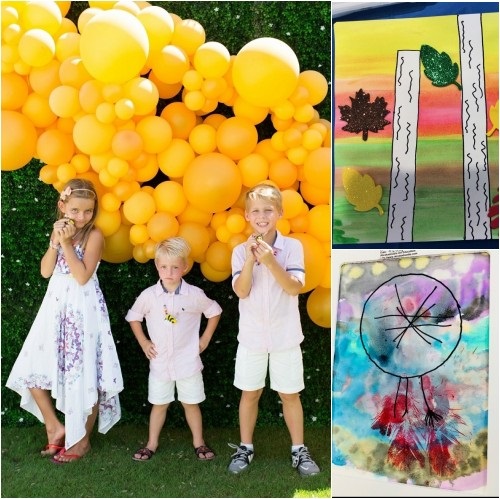 Harvesting Good in the Neighborhood: Abrakadoodle Celebrates Fall with Arts for All
Autumn is a celebration of bounty, as trees gracefully show off nature's artful transition from leaves of green to gilded shades of gold, bronze and reds. For Abrakadoodle, fall is a time to welcome students back to school and arts education, and it is another season to give back. As a champion for children's art education, Abrakadoodle brings smiles, confidence, skills and creativity to children facing any number of hurdles through its Arts for All charitable programs generously offered by participating franchise locations. Because Abrakadoodle educational directors are active in their communities, they identify needs and choose to respond in impactful ways. Abrakadoodle salutes three fabulous franchisees who have recently made a difference in their respective communities: Tara Scott Sawangsang of Northwest Florida, Eileen Moore of Prince William County and Colby Detwiler of Pensacola.
Bee-utiful describes the inventive way that Tara Scott Sawangsang engaged children in a 'Sweet Sunday" event to benefit The Sonder Project. The Sonder Project is a global non-profit charity focused upon education, clean drinking water, deworming and honey bee related agriculture. NW Florida's Henderson Beach Resort and Spa hosted Sweet Sunday with donated services from a number of community partners to include Abrakadoodle. In keeping with the focus on preserving honey bees, Abrakadoodle provided art instruction and materials for children to create their own beautiful bees. Tara remarked, "I was eager to partner with this community event because bees are so important to the environment! I think sometimes they are overlooked at how much they impact everything around us from the flowers in our gardens to the food that we eat! This event definitely combines my passion for art education and my love for the environment!" Kids at the event created their own bumble bees using model magic and wore them on beaded necklaces. The event was a sweet success with $3,000 raised.
Abrakadoodle's popular Dream Catcher Doodle that encourages imaginative creations provided a fitting conclusion this fall to a four-part series of donated classes provided by Eileen Moore and her Abrakadoodle of Prince William County team to benefit children and parents of SERVE and Hilda Barg. Eileen Moore, a 2018 finalist for the Seefeldt Awards for Arts Excellence in the Outstanding Arts Organization category, is extremely active in her community. She and her team were recognized in the NVFS Shelter News – May 2018 for their generous donation of free spring art classes at the SERVE Shelter and the Hilda Barg Homeless Prevention Center. Eileen and her staff wrapped up their shelter service projects this fall. According to Eileen, "We had students of all ages and even some parent take part!" She added, "We enjoyed hearing some of the best comments so far from participants: 'I can't wait to show my mom;' 'I am taking this to school tomorrow to show my friends and teacher;' 'This is just awesome,' and my favorite, 'You mean I get to keep this?'"
Last but not least, we salute Colby Detwiler of Abrakadoodle of Pensacola, who has made a positive difference in the lives of children with a true spirit of giving back during his first year as a franchise owner. Abrakadoodle Pensacola joined the Studer Family Children's Hospital at Sacred Heart on September 20th 2018 to bring a special day of creativity patients and their families. Colby along with his mother Carol Detwiler donated their time and skills to bring approximately 20 children an entertaining class of fall themed art, bringing along creativity tools to include watercolors, brushes, stickers, markers and more. Abrakadoodle's mascot Splat made an appearance too. Also joining the event was BJ's Restaurant of Pensacola, bringing pizza and fun with them. Colby remarked, "Getting the opportunity to give back to the community in some way has always been important to me. When thinking about the possibilities to bring our Arts for All initiative to Pensacola, one place stood out to me, the Children's Hospital. Some twenty-three years ago I had the fortune of being born at Sacred Heart. I was premature and my mother was diabetic, so the option of going full term with me was a high risk for her. Thanks to the doctors and nurses at Sacred Heart my mother was able to give birth to me without a problem and I've gone on to live a happy and healthy life. I saw no better way to present our inaugural Arts for All campaign than by giving back to the very people who helped to give me a start at life. Giving back to the children who needed an outlet most to express themselves and just take their mind off things for even a little while, nothing compares to it. The life and energy there was beautiful. I think it really shows in the gorgeous paintings we made that day. Truly wonderful. I am honored to have had the opportunity to bring this event to the children at Sacred Heart Hospital and to have received assistance in doing so with BJ's Restaurant. I know we brought a little sunshine with us that day."