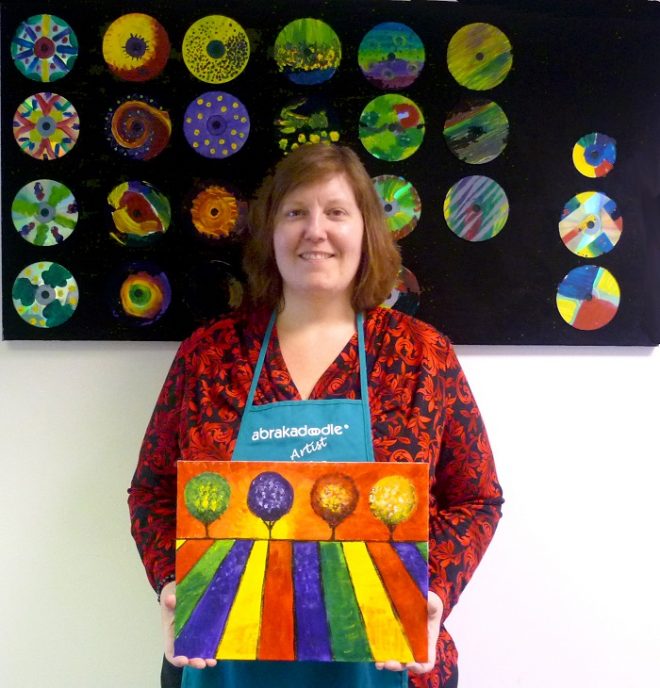 NEWS: Abrakadoodle Welcomes Newest Location – South Charlotte, NC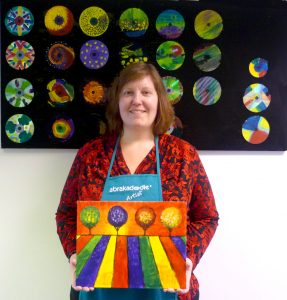 Sterling, VA, March 27, 2017 – Abrakadoodle is pleased to welcome Michelle de Beus, who is launching her new franchise business in South Charlotte. She will be bringing award-winning creative, mobile art programs to benefit children and adults. The entrepreneurial businesswoman moved to the Charlotte area a few years ago and has a passion for art, children and education.  With a goal of making a difference in her community, Ms. de Beus will be establishing a wide range of art programs to include visual arts classes, camps, workshops, in-school field trips, special events and arty parties delivered at schools, community centers, and other sites that serve children. Abrakadoodle also offers creative art programs and social art parties and events through its Art Splash program, which is designed specifically for adults. Abrakadoodle South Charlotte will be serving communities including Wesley Chapel, Matthews, Ballantyne, Waxhaw, Weddington and Marvin. Learn more about Abrakadoodle Art Education of South Charlotte by visiting www.abrakadoodle.com/nc-south-charlotte/.
"We are pleased to welcome Michelle to our award-winning Abrakadoodle franchise system," said Rosemarie Hartnett, CFE, President and Co-Founder of Abrakadoodle, Inc. "She brings an impressive educational and business background, which along with her genuine passion for education and the arts, will help her to build a strong program to serve Charlotte."
With a Bachelor's degree in Elementary Education, an MBA and a Master's degree in Project Management, Michelle de Beus plans to use her business experience and educational background to benefit a strong, community-centered business. She has most recently worked in project management within the insurance industry. Prior to that, Michelle worked in the hospitality industry and has worked as a preschool teacher.   She is widowed with a ten-year-old daughter and has desired more time with her daughter, which contributed to her decision to pursue this franchise. An insurance industry downsizing prompted Michelle to explore franchising. She explained, "As an artsy type person with a strong background and belief in education, Abrakadoodle sparked that special interest in me."
Abrakadoodle-South Charlotte is hiring teachers. If you enjoy art and working with children, contact Michelle de Beus at mdebeus@abrakadoodle.com to inquire about employment opportunities. To learn more about creative art programs or to bring Abrakadoodle classes and activities to your location, please go to www.abrakadoodle.com/nc-south-charlotte/ or call (704) 684-4799. Visit Abrakadoodle South Charlotte on Facebook for program updates.
Sterling, VA-based Abrakadoodle (www.abrakadoodle.com) was co-founded in 2002 by award-winning educators/franchise developers Mary Rogers, CFE, MA. Ed (Retired), and Rosemarie Hartnett, CFE. Abrakadoodle is the most comprehensive creativity and art education company of its kind, offering extensive visual arts classes, camps and parties for children ages 20 months to 14 years old at locations across the U.S. and in several international locations. Abrakadoodle's programs inspire children's imaginations by immersing them in such art forms as painting, sculpting, drawing, mosaics, collage, stamping, anime, paper & fabric art and much more at schools and other community locations. Abrakadoodle's Art Splash program features creative art parties and events designed for adult "artventurers."
# # # # #
Abrakadoodle and the Abrakadoodle logo are registered trademarks. Copyright © 2017 Abrakadoodle, Inc.   All rights reserved.