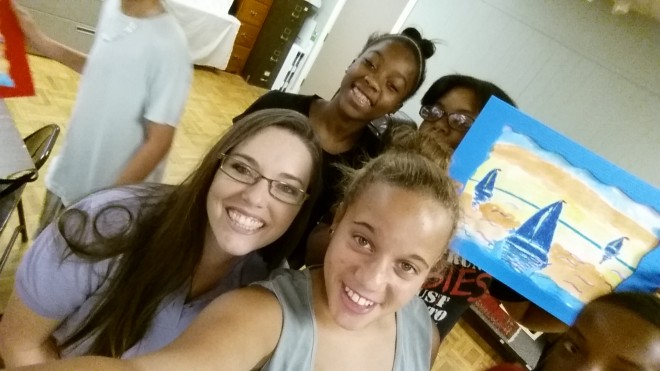 Abrakadoodle's Arts for All Program Delivers Creativity & Smiles in 2015
Abrakadoodle is a champion for children's art education, bringing smiles, confidence, skills and creativity to disadvantaged children through its annual Arts for All Scholarship program since 2007. Because Abrakadoodle is out in communities' nationwide providing art classes, camps and events, we see needs and have chosen to respond in impactful ways. We salute franchise owners Susan Parker of Abrakadoodle of Montgomery, Alabama and Charla Stuart of Abrakadoodle of Greater Metro Houston, who along with their teaching teams have made a positive difference in the lives of children and young adults this past year. Two art programs were funded with scholarship monies in 2014 with program delivery in late 2014 and 2015 to include the Brantwood Children's home in Alabama and the Texas Children's Hospital Cancer and Hematology Center in Houston, Texas.
Abrakadoodle-Montgomery, Alabama provided a series of four in-school field trips at the Brantwood Children's Home in Alabama. The hands-on art classes were delivered in late December 2014, spring and fall 2015. Many youth enjoyed painting with acrylics for the first time and immersed in creative activities that helped them to discover artists, art forms and techniques while enjoying self-expression. According to Brantwood's director, "Children have not had an art program in more than eight years." The Brantwood Children's Home provides a safe, stable, structured environment for abused, neglected and other "at-risk" children ages 10-21. Margaret Cornwell, Abrakadoodle Program Manager, said, "Working directly with the kids who live at the Brantwood Children's Home was enormously rewarding. They really enjoyed immersing in art and expressing themselves in a fun and nurturing environment."
Abrakadoodle-Greater Metro Houston, Texas provided three, two-hour art events for pediatric patients and their families at the Texas Children's Hospital Cancer and Hematology Center in Houston, Texas. These hands-on art events provided children and their siblings with creative choices and joyful expression in a world where they have few choices, while also balancing family focus when so much energy is focused on the child's illness. Abrakadoodle's Arts for All programs were launched during the holiday season 2014 and continued with late spring and fall events. According to Carol Herron, Arts in Medicine Program Coordinator, Texas Children's Cancer and Hematology Centers, "It is a joy to be able to help families make some positive memories from a very difficult time in their lives. Thank you to Abrakadoodle for helping to do this." Reflecting on her Arts for All experience, Charla Stuart remarked, "I feel that our art program has had a very positive impact on the delightful patients at the Texas Children's Cancer and Hematology Centers. The joy was apparent in the shining faces of our program participants as they created imaginative art works that reflected their own respective styles."
Abrakadoodle headquarters, along with its dedicated franchisees and their instructional staff members are proud to have donated more than 2,000 hours and approximately $20,000 to date to make these impressive programs possible and to make a difference in communities nationwide. We look forward to continuing this legacy of innovation and impact by funding empowering art programs now and in the future.
Since 2007, Abrakadoodle corporate headquarters annually awards franchisees with grant monies to provide art programs for children facing a variety of financial, intellectual, emotional, physical or other hardships and challenges. In its eighth year, Abrakadoodle directly reaches out with its award-winning art programming, well-trained teachers and top notch art materials to empower students and to provide creativity-boosting, skill-building, fun and healing art experiences. Abrakadoodle's funded programs have included an eight-week summer camp for economically disadvantaged kids at the Ann Arbor Community Center in Michigan to afterschool art classes for low-income deaf and hard-of-hearing students in Los Angeles and art programming for 100 children at an Atlanta shelter, as well as summer camps for at-risk young teens in Denver and weekly art classes for low-income preschoolers in Austin to art programs for developmentally disabled preschoolers in Towson, Maryland and our most recent programs in Alabama serving at-risk youth at a children's home and in Houston serving children with cancer. Abrakadoodle is truly touching children's lives and providing a lasting impact.