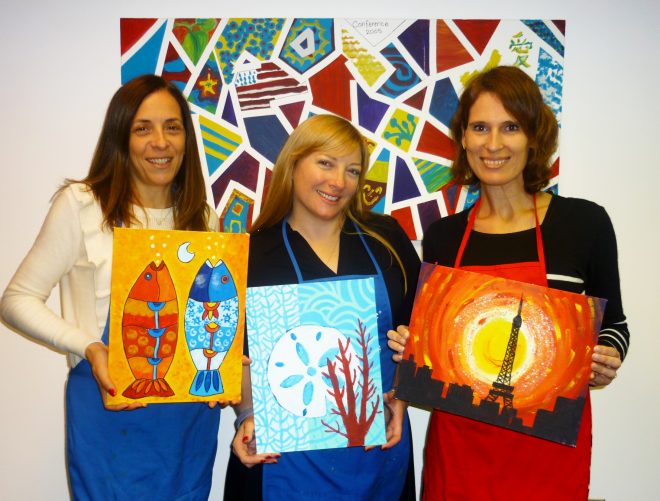 Abrakadoodle News: Announcing New West Greater Houston Location
News Release
 For Immediate Release
Abrakadoodle Remarkable Art Welcomes Newest Location: West Greater Houston, Texas
Trio of professional business women acquire art franchise; plan launch of children's art and creativity programs
Sterling, VA, March 14, 2017 – Abrakadoodle is pleased to welcome new franchisees Julieta de Cara, Dana Yannone and Romina Moscoso (Photo, l-r) to its latest West Greater Houston location. They will be bringing award-winning creative, mobile art programs to benefit children and adults. All three entrepreneurial working mothers have resided in Houston for at least 10 years and share in common not only a passion for art, children and education but also a shared Argentinian heritage.  With a goal of making a difference in their Houston community, they will be establishing a wide range of art programs to include visual arts classes, camps, workshops, in-school field trips, special events and arty parties delivered at schools, community centers, and other sites that serve children. Abrakadoodle also offers creative art programs and social art parties and events through its Art Splash program, which is designed specifically for adults.  Learn more about Abrakadoodle Art Education of West Greater Houston by visiting www.abrakadoodle.com/tx-west-greater-houston/.
"We are pleased to welcome Julieta, Romina and Dana to our award-winning Abrakadoodle franchise system," said Rosemarie Hartnett, CFE, President and Co-Founder of Abrakadoodle, Inc. "What a great group of smart, experienced professionals, who share a genuine interest to give back to their community as they build a strong program."
With a degree in sociology, Julieta de Cara plans to use her experience in human resources to benefit her new business. She has most recently spent about 10 years working for a nonprofit dedicated to preventing child abuse. Julieta looks forward to combining her business experience and belief in high quality art education programs to help build a strong, community-centered business. She is married with three children: an eight-year old daughter and boys ages two and five. Julieta loves her family time and looks forward to running a business that helps shape a well-balanced lifestyle.
Romina Moscoso is a CPA and has worked in the auditing field for many years both in Argentina and in Houston. She left Argentina with her husband in 2004 with his job situated in Houston. After a few years, Romina and her family moved to London for a year and have lived in Houston ever since. Romina and her husband have two daughters ages six and ten. Ms. Moscoso said, "I always loved art in all of its expressions and looked for different ways to combine this passion with my 'numbers' background." She explained, "That's why I have many hobbies connected with art. I have been a dancer, and I love teaching kids and also have a strong passion for photography, which only strengthened with my moves from Argentina to Houston to London and back." Five years ago, Romina was diagnosed with breast cancer. "My whole life changed," she remarked and added, "You realize what is truly important, and since then, I have been looking for different ways of going back to work without having to compromise my family time and my most important job, being a mom and a wife. That is when I discovered Abrakadoodle, which made me realize that I can have a great family -work balance and reconnect with my background at the same time."
Dana Yannone is an architect by background and has been working as a professional photographer for the past seven years. She recently spent a few years in Romania while touring Europe doing photography exhibitions. During her time in Romania, Dana's photography was part of three books about Romania benefiting several charity organizations. "This was very important to me," Dana commented, "because I have so enjoyed helping people through my art." Dana loves art and working with kids and will be taking on the role of Education Director for her Abrakadoodle franchise location, where she will be responsible for art class planning and materials management. Dana has two boys, ages three and nine years old. She said, "We are mothers, professionals and most importantly friends, and together we will build a business that also supports our community and personal goals."
Abrakadoodle-West Greater Houston is hiring teachers. If you enjoy art and working with children, contact Julieta de Cara at jdecara@abrakadoodle.com to inquire about employment opportunities. To learn more about creative art programs or to bring Abrakadoodle classes and activities to your location, please go to www.abrakadoodle.com/tx-west-greater-houston or contact Romina Moscoso at rmoscoso@abrakadoodle.com or call (832-348-9257. Visit Abrakadoodle Art Education West Greater Houston on Facebook for program updates.
Sterling, VA-based Abrakadoodle (www.abrakadoodle.com) was co-founded in 2002 by award-winning educators/franchise developers Mary Rogers, CFE, MA. Ed, and Rosemarie Hartnett, CFE. Abrakadoodle is the most comprehensive creativity and art education company of its kind, offering extensive visual arts classes, camps and parties for children ages 20 months to 14 years old at locations across the U.S. and in several international locations. Abrakadoodle's programs inspire children's imaginations by immersing them in such art forms as painting, sculpting, drawing, mosaics, collage, stamping, anime, paper & fabric art and much more at schools and other community locations. Abrakadoodle's Art Splash program features creative art parties and events designed for adult "artventurers."
# # # # #