#SplatDoodle Movement: Weekly Art Challenge
Abrakadoodle families,
We invite you to join our Splat Doodle movement by participating in our weekly art challenge. Our first week took inspiration from Piet Mondrian. Our second week was inspired by Friedensreich Hundertwasser. We hope you will enjoy this week's art challenge! Children are invited to create fun art activities at home. Consider posting pictures of the artwork to social media. Use the hashtag #SplatDoodle and tag us at @Abrakadoodle.
Weekly Challenge: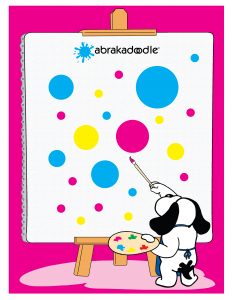 Yayoi Kusama is a Japanese artist. She is famous for her artwork with polka dots. She creates paintings, sculptures, performances, and installations adding all-over dots!
1. Use any materials you have at home and create a picture with polka dots. Be creative!
2. A dot is a circle. Look around the house and find things that are shaped like a circle. Place the items together and take a picture.
3. Make a list of circular items that you can see from your window.
Have fun and express your creativity! We hope to see your art, and so please use hashtag #SplatDoodle and tag us @Abrakadoodle.