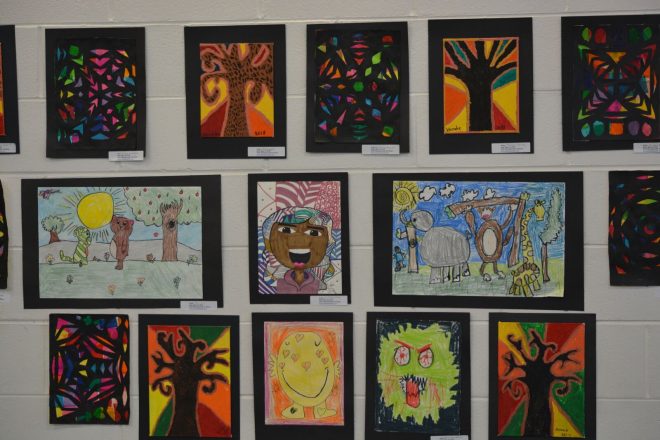 NEWS: Abrakadoodle to Send Award-Winning, Creative Team to National Charter Schools Conference in Austin
President/Co-Founder Rosemarie Hartnett will join several Abrakadoodle education directors to share art education success stories and build upon great partnerships
Sterling, VA, June 5, 2018 – Abrakadoodle, a global leader in children's art education, is sending a creative team of educational leaders to Austin, TX for the National Charter Schools Conference scheduled June 17-20. The conference will be held at the Austin Convention Center. Abrakadoodle will be participating as an exhibitor and taking meetings with existing and potential charter school and business partners. The company also plans to record a podcast for its new "Artful Leadership Series," with the first episode dedicated to Abrakadoodle's charter school partnerships.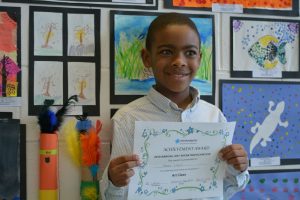 Photos (left & below) courtesy of Dawna Kelly, Director/Owner Abrakadoodle of Metro Detroit from Abrakadoodle's 2018 end-of-year art show celebrating student accomplishments selected from 20 charter school partner locations.
"Charter school principals and school administrators are among some of our most dynamic educators," said Rosemarie Hartnett, Co-Founder and President of Abrakadoodle, Inc. Abrakadoodle will be sharing its charter school success stories at booth #1627. Ms. Hartnett will be attending the conference along with a number of Abrakadoodle Educational Directors from across the country. Abrakadoodle is a standards-based art education program that has partnered with Charter Schools nationwide for almost 15 years. The company offers turn-key solutions for schools seeking an outstanding art program that provides:
Comprehensive standards-based art curriculum designed to be integrated into the teaching day as a school's primary art program
A program focused upon the elements of art, art techniques, styles, art history and the sequential development of skills
A program that also integrates STEAM based projects into our art lessons
Specially trained, qualified and pre-screened art teachers
Safe non-toxic art materials that bring an engaging multi-arts experience to students.
Sterling, VA-based Abrakadoodle (www.abrakadoodle.com) was co-founded in 2002 by award-winning educators/franchise developers Mary Rogers, MA. Ed (ret), and Rosemarie Hartnett, CFE, President. Abrakadoodle is the most comprehensive creativity and art education company of its kind, offering extensive visual arts classes, camps and parties for children ages 20 months to 14 years old at locations across the U.S. and in several international locations. Abrakadoodle's programs inspire children's imaginations by immersing them in such art forms as painting, sculpting, drawing, mosaics, collage, stamping, anime, paper & fabric art and much more at schools and other community locations. Abrakadoodle's Art Splash program features creative art parties and events designed for adult "artventurers."
# # # # #
Abrakadoodle and the Abrakadoodle logo are registered trademarks. Copyright © 2018 Abrakadoodle, Inc.   All rights reserved.