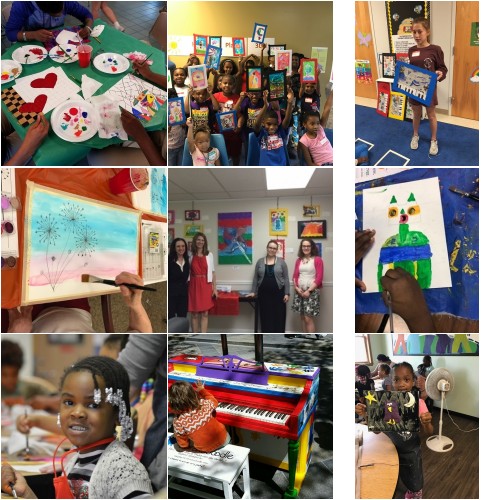 NEWS: Abrakadoodle Awarded Silver Honors at Franchising Gives Back Event
News Release
 For Immediate Release
Abrakadoodle Awarded Silver Honors at Franchising Gives Back Event
Abrakadoodle's Arts for All Charity, the Brantwood Children's Home, Awarded $1,000

Sterling, VA, September 13, 2017 — Abrakadoodle remarkable art education was recognized at the third annual Franchising Gives Back celebration on September 11 hosted by the International Franchise Association (IFA) to recognize franchise companies' charitable programs and the impact they have on their communities. The IFA Franchise Education and Research Foundation selected winners in five categories: Spirit of Franchising, Newcomer, Enduring Impact, Support Our Veterans and Innovation and Impact. Abrakadoodle brought home the Silver in the Innovation and Impact category.
Abrakadoodle President Rosemarie Hartnett, along with with Margaret Cornwell, Co-Owner of Abrakadoodle-Montgomery, Alabama, accepted the award, which recognized corporate and franchisee-funded Arts for All program initiatives that enable children to experience the benefits of art education regardless of age, gender, ability or family circumstances. The Brantwood Children's Home, Abrakadoodle of Montgomery's charitable partner, was the recipient of a $1,000 award to fund ongoing Abrakadoodle art programs for its residents.
"We are so honored to accept the Innovation and Impact Award," remarked Rosemarie Hartnett. "This award recognizes our expanded efforts by our franchisee partners to reach out and positively impact communities nationwide, and we are proud of the ways in which we've empowered children through the visual arts."
Abrakadoodle of Montgomery is a two-time recipient of Abrakadoodle's Arts for All Scholarship, and in 2017 provided two free art workshops to benefit residents of the Brantwood Children's home. Abrakadoodle of Prince William County, Virginia conducted three Arts for All events from February through April 2017 to include two in-school art field trips for PACE (Positive Attitude and Commitment to Education), as well as a free painting class for residents of an assisted living facility.  Abrakadoodle of Metro Detroit, Michigan conducted two free art events to benefit families served by Samaritas, a community-based organization that helps families in need. The first event in March featured three, one-hour art painting classes for children. The second event in April engaged kids in a sculpting class. Abrakadoodle of Northern Virginia conducted a free painting workshop for 20 children served by "Doorways for Women and Children" in honor of Child Abuse Prevention Month in April. Later that month Abrakadoodle hosted an art show at CASA (Court Appointed Special Advocates) and decorated their offices using the kid-crafted art with a goal of providing visual inspiration for the workers of this impactful organization. Abrakadoodle of Raleigh, North Carolina struck a chord of hope by conducing two unique, music-inspired art classes in March for children served by The Carying Place, which provides short-term housing, support and training to help homeless, working families attain independence. Abrakadoodle of Denver, Colorado donated their time, talent and materials to take part in "Your Keys to the City" art event produced by the Downtown Denver Partnership and sponsored by the Downtown Denver Business Improvement District. Team Abrakadoodle collaborated on a visual masterpiece that they painted on a piano during the live event, and they designed a contest for visitors to "Guess the Artists," a contest designed to garner interest and participation in art with an Abrakadoodle Arty Party prize for one lucky winner.
About Abrakadoodle:
Sterling, VA-based Abrakadoodle (www.abrakadoodle.com) was co-founded in 2002 by award-winning educators/franchise developers Mary Rogers, CFE, MA. Ed (Retired), and Rosemarie Hartnett, CFE. Abrakadoodle is the most comprehensive creativity and art education company of its kind, offering extensive visual arts classes, camps and parties for children ages 20 months to 14 years old at locations across the U.S. and in several international locations. Abrakadoodle's programs inspire children's imaginations by immersing them in such art forms as painting, sculpting, drawing, mosaics, collage, stamping, anime, paper & fabric art and much more at schools and other community locations. Abrakadoodle's Art Splash program features creative art parties and events designed for adult artventurers.
# # # # #