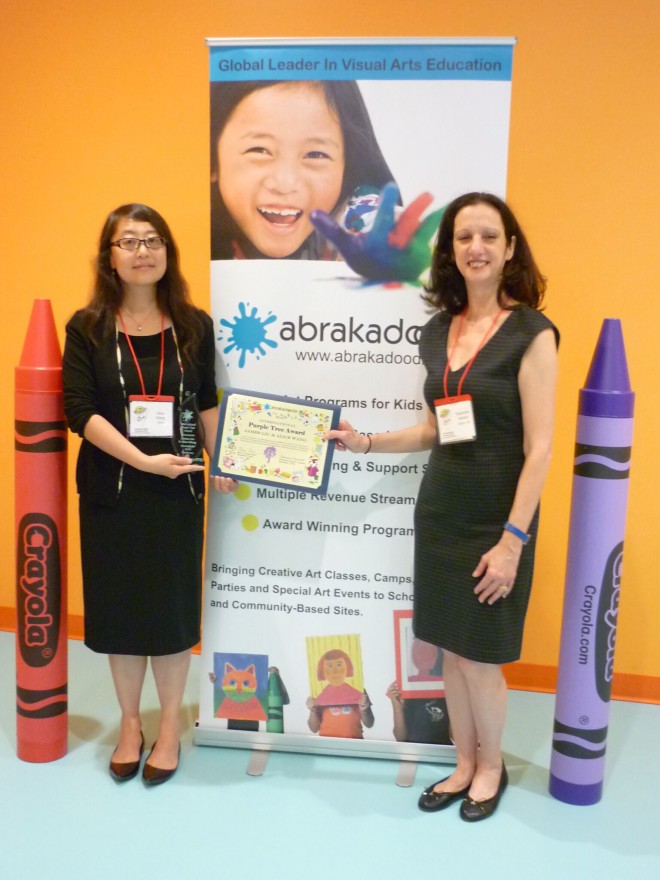 Company News: Mega Education Acquires Abrakadoodle


Contact: Karin Machusic, Director of PR: 925.708.2179; karin@abrakadoodle.com
Mega Education, Inc. Acquires U.S.-Based Abrakadoodle Franchise
Mega Education seeks further global expansion through popular Abrakadoodle brand
Sterling, VA, February 1, 2016 – Abrakadoodle is pleased to announce that Mega Education, an international education company focused on bringing only the highest quality educational concepts to children, has acquired Abrakadoodle, a privately held franchise with headquarters in Sterling, Virginia. Abrakadoodle has since 2002 been providing award-winning, creative, mobile art programs to benefit children and adults via a network of franchise locations across the U.S. and in several international locations. During Abrakadoodle's annual conference last November in Orlando, FL, Rosemarie Harnett awarded Alice Wang of Mega Education Abrakadoodle's  "International Purple Tree Award" for strong performance and leadership in China.
According to Abrakadoodle's co-founder and President Rosemarie Hartnett, "Abrakadoodle has been looking for ways to ensure that Abrakadoodle will continue to grow and thrive, and our answer came from a source very "close to us," through a newly forged relationship with Mega Education – Abrakadoodle franchise master franchisees already offering Abrakadoodle programs in China." She remarked, "I am genuinely excited about exploring new ways to leverage our now much larger educational reach in building the Abrakadoodle brand." Ms. Hartnett will continue to serve as President of the company. Her business partner and co-founder Mary Rogers recently retired from the company. Current headquarters staff will remain in place and the office in Sterling, Virginia will continue to be the hub for global operations. Ms. Hartnett will be working with Alice Wang, the company's new CEO, in the coming months to secure plans to expand franchise development efforts in the U.S. and overseas. "Franchise owners can continue to expect high levels of support, training and curriculum to ensure that our brand is strong," Wang explained.
"Our newly formed relationship solidly positions us as a global network that can leverage strong international and domestic experience and connections," stated James Liu, CEO of Mega Education.
Mega Education is an international education company focused on high quality children's education concepts. They have partial ownership in another highly respected U.S.-based franchise concept, My Gym, with wholly-owned interest in My Gym Worldwide, including China. My Gym is a physical fitness concept for children with almost 300 global locations. Abrakadoodle – China is the fastest growing sector of Abrakadoodle's business with 130 franchise units across that country, where they are co-branded with My Gym.
Abrakadoodle was co-founded in 2002 by award-winning educator/franchise developer Mary Rogers, CFE, MA. Ed, and award-winning children's services franchising expert Rosemarie Hartnett, CFE. Abrakadoodle is the most comprehensive creativity and art education company of its kind, offering extensive visual arts classes, camps and parties for children ages 20 months to 12 years old. Abrakadoodle's Art Splash program features creative art parties and events designed for adult "artventurers." Abrakadoodle has received seven First Place Awards from Nickelodeon's Parent Picks Awards for "Best Art Program to inspire your child's inner Picasso." Abrakadoodle also received nominations for "Best Kids Party Entertainer" and "Best Kids Party Place." Visit www.Abrakadoodle.com.
# # # # #
Abrakadoodle and the Abrakadoodle logo are registered trademarks. Copyright © 2016 Abrakadoodle, Inc.   All rights reserved.