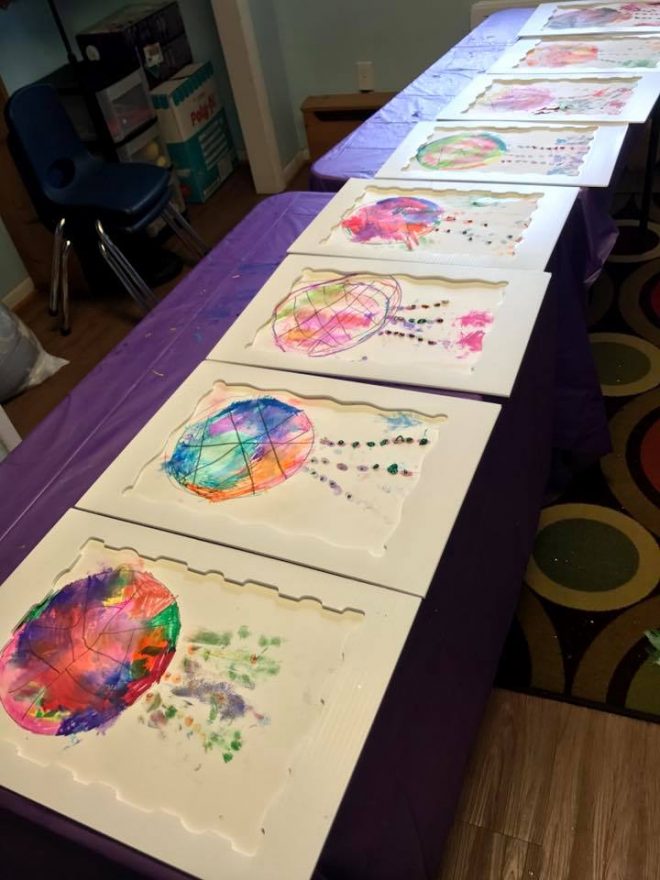 Inventive & Inspired: Celebrating another sensational summer!
For kids who love to use their imaginations and learn new skills while having a blast, Abrakadoodle delivered captivating summer camps, in-school field trip, parties and events at locations nationwide. In fact, you might say Abrakadoodle's arty experiences were "dreamy." Abrakadoodle-Prince William County reports that in-school field trip students loved making a Dreamscape Collage. Apparently, some students said they only had bad dreams and when asked what a good dream would look like, they created dreamscapes of apple orchards, farms, the beach, fishing and even an ice cream house! From designing good dreams to writing a comic book, getting back to nature and so many inventive themes, Abrakadoodle art students use their imaginations to make new and wonderful creations.
According to Nancy Brannegan, teacher for Abrakadoodle-Northern Virginia, "One of my favorite stories from teaching art at camps this summer entails the cartooning camp for school age kids I co-taught at Mt. Vernon." Nancy said they had five boys who collaborated to write a 17-page comic book. They started from day one and wrote the narrative, developing characters and illustrating everything by taking turns. The boys spent most of their spare time all week working on their book. On day five of the camp, the boys were with Nancy in the cafeteria when she heard them yell out, "YES! YES! YES!" They high-fived and jumped up and down, because they finished their book on time for the scheduled art show. Collaboration is a fun benefit for girls, too! During an ArtBlast STEAM camp held at Navy Elementary School, a group of girls decided to embellish upon a house building lesson by creating one big house by working together over the course of several days (between other art lessons). According to Sue Walia, Education Director for Abrakadoodle-Northern Virginia, "The result was fantastic, and I believe, the experience will be very impactful for those girls."
Speaking of fun pairings, Cecilia Hazelton, Education Director of Abrakadoodle-Bowie, partnered with Echoes of Nature as part of her Art Blast, Under Sea and Bug Me art camps, doubling up on science activities (with special animal visitors) to give participants loads of hands-on learning involving science and nature. Staying with the nature theme, Bridgett Jones Smith, Education Director of Abrakadoodle-Frederick and Washington Counties, MD, tells us that her Let's Go Camping art camp sparked a fire of enthusiasm among her students. She remarked, "Many of the kids went home each night and continued with campout activities, either real or pretend."
Abrakadoodle runs art camps and in-school field trips at intervals throughout the year! Check with an Abrakadoodle location near you!