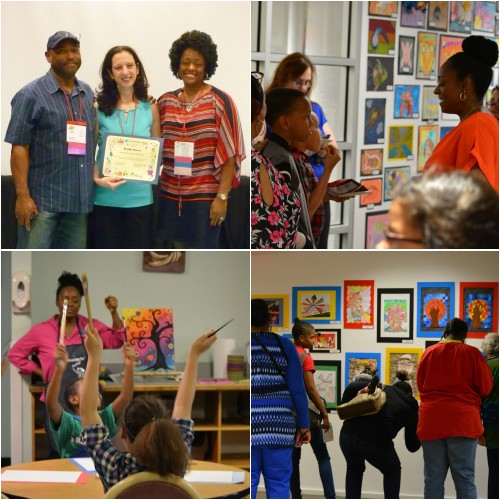 Dawna and Al Kelly Celebrate 10th Abrakadoodle Anniversary with Contract Renewal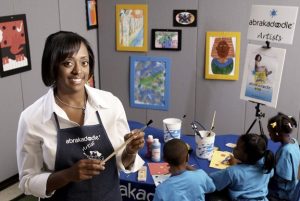 This Franchise Friday Abrakadoodle recognizes Dawna and Al Kelly of Canton, Michigan, who are celebrating their 10-year anniversary with Abrakadoodle this spring and are renewing their commitment to their award-winning franchise. Over the past decade, this dynamic duo has ascended to the top of the franchise system with consistently high performance that reflects strong partnerships in their community. The Kelly's have been honored with the Rising Splat Award (2008); Purple Tree Award (2009); Mentor Award (2011); Media Award (2015 & 2016); Community Service Award (2016); Top Monthly & Platinum Plus Awards (multiple years); Doodle Dozen Award (multiple years), and Dawna has also been recognized for her leadership on the Franchise Advisory Council (FAC) as a representative of the West/Central region. They serve Detroit, Redford Township, Canton, Northville, Plymouth, Wayne, Westland, Garden City, Livonia, Belleville and Van Buren Township. This spring, the Kelly's conducted their third annual Student Art Show at TechTown in Detroit to showcase student art selected from 17 Detroit area charter and private schools they serve with in-school, integrated art programs.
Dawna remarked, "The Abrakadoodle experience has exceeded our expectations as entrepreneurs by not only providing a vehicle for successful business ownership, but also a career where we can make a difference in the lives of children while providing schools with an art education program that cultivates creativity and imagination—a much needed skillset in today's global economy."  She added, "We look forward to reaching more students and partnering with more schools through our passion for education and success for all children." 
Dawna and Al Kelly are committed to giving back in their community. In 2016, they took part in a multi-month community outreach program that entailed partnering with the Plymouth-Canton Community Schools district and other nonprofit organizations to support a special art event for 110 Student Leadership Council representatives. These students, representing schools from throughout the district, chose to work with Abrakadoodle on a project that included a large art workshop and painting event, which was followed by a student art auction with proceeds benefiting St. Vincent de Paul's Journey to Housing Program. The event was featured in an article that appeared in Hometown Life. This year, Dawna and Al rose to the Abrakadoodle corporate challenge for owners to conduct Arts for All programs in their respective community by conducting three, free one-hour art classes in March for children served by Samaritus. In April, they conducted another free art workshop for 20 kids. The children produced owl sculptures on canvas, much to their delight. Samaritus is a community-based organization that provides a number of social services for people in need, including a homeless shelter that houses approximately 25 families. They are planning additional events to benefit those served by Samaritus in the near future.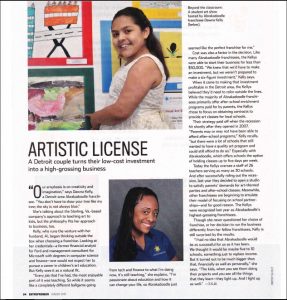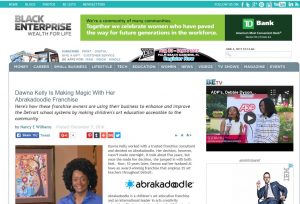 Dawna and Al Kelly are truly Abrakadoodle brand ambassadors and have shined in the media spotlight. Dawna was featured in an article in Entrepreneur Magazine that was published in 2015 and reprinted in 2016. She also worked with a writer for Family Fun magazine, which resulted in a published article in 2016. Dawna and Al have participated in numerous workshops and panels to share their knowledge with their peers. They are rooted in their community and help make a difference in many ways. We salute Dawna and Al Kelly and their entire team of teachers for their continued dedication to bringing high quality Abrakadoodle art programs to benefit their community!