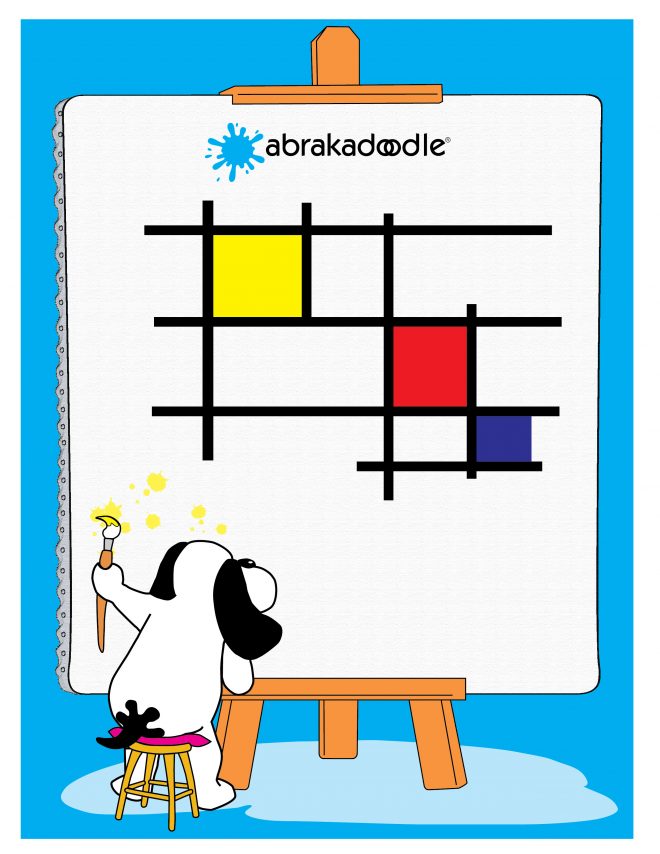 Art Uplifts Us! Abrakadoodle Announces Its Weekly Splat Doodle Challenge
By: Rosemarie Hartnett
How our lives have changed over the last few weeks! With schools shut down and businesses being negatively impacted because of COVID-19, many of us feel a great amount of uncertainly. This includes our families and certainly, our children.
We believe that art uplift us! During this difficult time, Abrakadoodle announces its Weekly Splat Doodle Art Challenge! Each week Abrakadoodle's company mascot Splat, our arty dog, will post an art challenge activity that children of all ages can participate in! The art challenge will present a fun and creative art activity that children can do at home and then share with others.
This Week's Art Challenge:
Piet Mondrian was a Dutch artist famous for his abstract paintings. He used lines, colors and shapes on his paintings to express his ideas. He also loved music and dancing!
1. Use any materials you have at home and create a picture with lines, shapes and colors. Be creative!
2. Write a composition about your art. What did you want to express with your lines, colors and shapes? Tell us your story!
3. Play music, dance and express your ideas with movement.
Join our Weekly Splat Doodle art Challenge at: https://www.facebook.com/Abrakadoodle
We invite families to share the art creations via their social media, using the hash tag #SplatDoodle, and to tag @abrakadoodle.
We see the Splat Doodle Art Challenge as a way to continue to nurture creativity in children and help them to focus on the positive and uplifting process of creating art! We see it as a way to stay connected through the beauty of art during this very difficult time.  We hope you will join us!