Mighty Mini's: Abrakadoodle Readies Young Kids to Take Flight Toward School Success
Article by Rosemarie Hartnett, Co-Founder & President, Abrakadoodle
With summer 2018 winding down, our thoughts naturally turn back-to-school!  Parents everywhere are busy getting back packs and new school supplies prepared.  They want to make sure their kids are ready!  For many young kids who participated in Abrakadoodle camps this summer, so many of the fun art activities did just that – they built and strengthened those readiness skills needed to ensure a successful school year!
During the EXTREME! STEAM Art Camp, kindergarten aged kids learned to use their imaginations to design a flying machine like Leonardo Da Vinci.  They learned that this famous artist was also an inventor, scientist, mathematician, engineer and an architect! They also learned that he was fascinated by the idea that people could fly like birds!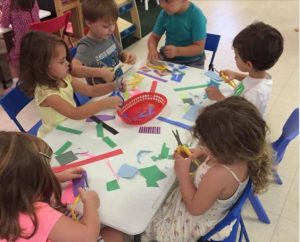 Little fingers used scissors to cut challenging zigzag shapes, strengthening their fine motor control.  They carefully selected colors for their flying machines and used math skills in the construction of machines that they imagined just like Leonardo Da Vinci did!  They were encouraged by instructors to strengthen their language skills by talking about their design with fellow campers.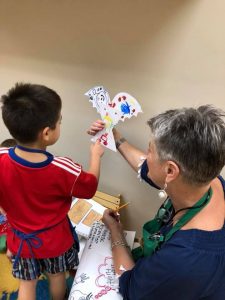 As our little campers took turns hoisting their flying machines into the air for test flights, it was great to see the excitement and sharing of ideas among the young "pilots!" What better way to engage rising kindergarteners in a fun and social learning environment, all while building self-confidence and problem-solving skills. Abrakadoodle's developmentally appropriate art classes and camps encourage creativity and help young children obtain and strengthen important readiness skills that help ensure school success.