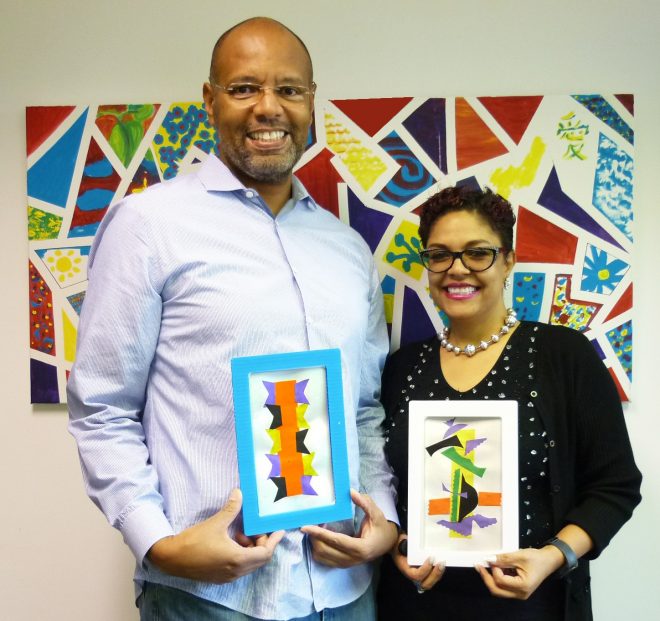 NEWS: Abrakadoodle Welcomes New Wilmington, DE Location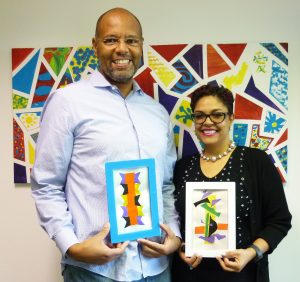 Sterling, VA, May 1, 2018 – Abrakadoodle is pleased to welcome new franchisees Ingrid and James Burnett to its newest franchise territory serving Wilmington Delaware and will be bringing award-winning creative, mobile art programs to benefit children and adults. The Burnetts will be offering Abrakadoodle's visual arts classes, camps, workshops, in-school field trips, special events and arty parties delivered at schools, community centers, and other sites that are accessible to members of the community. In fact, they are launching an educational art program in partnership with the Positive Outcomes Charter School in Camden that will serve 70 students every Wednesday for seven-weeks starting immediately. New franchise owners are assigned a Crayola® color, and the Burnetts said they are pleased with their "Mauvelous" color designation that has a playful appeal combining pink and purple. Abrakadoodle also offers creative art programs and social art parties and events through its Art Splash program, which is designed specifically for adults. Abrakadoodle Wilmington Delaware will be focusing on establishing their art education programs in Dover, Newark and Wilmington and will ultimately be serving most of Delaware to include Hockessin, New Castle, Bear, Delaware City, Middletown and Smyrna. Learn more about Abrakadoodle Wilmington Delaware by visiting http://www.abrakadoodle.com/de-wilmington/.
"We are pleased to welcome Ingrid and James to our award-winning Abrakadoodle franchise system," said Rosemarie Hartnett, CFE, President and Co-Founder of Abrakadoodle, Inc. "They bring valuable career experiences and tremendous passion and experience in working with kids, which should help them establish a thriving program while fitting well with Abrakadoodle's community involvement culture."
The Burnetts described Abrakadoodle as a "good fit for both of us" from the start. As Ingrid shared, "Abrakadoodle is a well-designed franchise with a bow on it. Our skills complement this business." James said, "I was intrigued with Abrakadoodle based upon what I learned from the website and how well it compared to other business opportunities. The quality curriculum sold me," he commented. James Burnett attended the La Salle University School of Business Administration and has enjoyed a vibrant career in the financial services industry for over 24 years and has served on various community and professional boards. Over the past five years, James worked as a consultant and adjunct professor for Philadelphia University, where he taught landscape design students about real world scenarios and the impact of their designs on the community. Additionally, James has shared his leadership in the WESGOLD Fellows program, which provides students with summertime extended educational experiences to foster improved confidence and school success. He enjoys photography and listening to music, especially jazz. Ingrid Burnett self-describes herself as a "very artistic person" in every way. She loves all aspects of the arts and in addition to her successful 18+-year career as a Global Learning and Development Consultant and Trainer with E.I. Dupont, Ingrid has also applied her passion for children and the arts by founding a non-profit that has served children in her community by providing free arts and crafts programs for economically disadvantaged children during summer and Christmas breaks.
Abrakadoodle Wilmington Delaware is hiring teachers. If you enjoy art and working with children, contact James Burnett (jburnett@abrakadoodle.com) to inquire about employment opportunities. To learn more about creative art programs or to bring Abrakadoodle classes and activities to your location, please go to http://www.abrakadoodle.com/de-wilmington/ or contact Ingrid Burnett at iburnett@abrakadoodle.com or call 302-355-0461. Visit Abrakadoodle Delaware on Facebook for program updates.
Sterling, VA-based Abrakadoodle (www.abrakadoodle.com) was co-founded in 2002 by award-winning educators/franchise developers Mary Rogers, MA. Ed (ret), and Rosemarie Hartnett, CFE, President. Abrakadoodle is the most comprehensive creativity and art education company of its kind, offering extensive visual arts classes, camps and parties for children ages 20 months to 14 years old at locations across the U.S. and in several international locations. Abrakadoodle's programs inspire children's imaginations by immersing them in such art forms as painting, sculpting, drawing, mosaics, collage, stamping, anime, paper & fabric art and much more at schools and other community locations. Abrakadoodle's Art Splash program features creative art parties and events designed for adult "artventurers."
# # # # #
Abrakadoodle and the Abrakadoodle logo are registered trademarks. Copyright © 2018 Abrakadoodle, Inc.   All rights reserved.