Brand Builders Recognized at Abrakadoodle's 15th Conference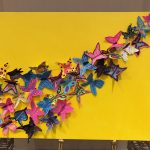 "We delight in the beauty of the butterfly, but rarely admit the changes it has gone through." ~ Maya Angelou. This quote was the source of inspiration for Conference 2019.
Abrakadoodle's brand vision and values are reflected in the awards conferred during conference. Congratulations to our Award Winners!
Special Award In recognition of their long-standing top system-wide performance, service and leadership, Rosemarie Hartnett presented Dawna and Al Kelly of Abrakadoodle Detroit with an original canvas created by Elisabeth Estivalet of France. "An original piece of art seemed like a wonderful way to recognize Dawna and Al Kelly, who have reached new heights of performance and are true originals that make our brand shine brightly," said Ms. Harnett.
Service Awards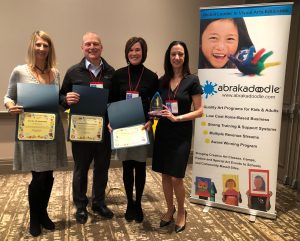 Arts for All Scholarships 2019 – Each year, through the Arts for All Program, Abrakadoodle franchise owners are asked to submit applications that request a scholarship award for a program or initiative in their territory that provides art programming for children who would not ordinarily take part in Abrakadoodle classes. With scholarship resources, Abrakadoodle has funded numerous programs that have benefited youth in communities nationwide. Sue Walia of Abrakadoodle Northern Virginia will receive funding to bring Abrakadoodle art to children in the cancer ward at Inova Children's Hospital. Eileen Moore of Abrakadoodle Prince William County will receive funding to bring Abrakadoodle art classes to benefit children with disabilities at the Muriel Humphrey Center. Photo (l-r): Sue Walia, Troy and Eileen Moore, and Rosemarie Hartnett, CFE, President & Co-Founder of Abrakadoodle.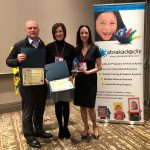 Community Service Award – Eileen Moore, Abrakadoodle PWC
Recognizing a franchise owner and her team who are true partners in giving and have elevated the brand with inspiring community service to include such projects as transforming a special needs center with art work, which entailed a multi-day volunteer efforts averaging more than 15 hours each to beautify the setting that serves young people with disabilities. Photo: Troy and Eileen Moore with Rosemarie Hartnett.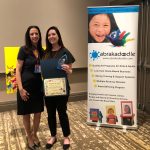 Purple Tree Award (Domestic) – Margaret Cornwell, Abrakadoodle Montgomery Alabama
Recognizing a culture champion and passionate advocate of the Abrakadoodle brand with the highest leadership award for actively promoting the Abrakadoodle brand, participating in corporate initiatives and programs, helping other owners and going above and beyond expectations in helping to grow the brand and system. This owner has been interviewed for a live podcast about entrepreneurship; appeared on live television and been featured with an article by her area chamber of commerce, and she has been richly immersed in her community, such as providing a special art workshop for 275 children to celebrate Alabama's bicentennial. Photo: Rosemarie Hartnett with Margaret Cornwell, right.
Management Awards
Rising Splat Award – Stephanie Burke, Abrakadoodle Greater Silver Spring MD
Recognizing a franchise with the fastest start. This owner's resolve has never wavered. She has worked tirelessly and collaboratively with her neighboring franchise owners on program proposals, marketing strategies and sharing best practices with a drive that has led her to be on track to double her growth in this her second year in business.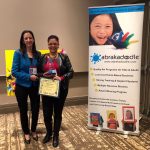 Splat Award – Ingrid Burnett, Abrakadoodle Wilmington Delaware
Recognizing a franchise owner for the most creative promotion of the brand. This owner has brought a creative spotlight to the Abrakadoodle brand by embracing the trend to use video to boost viewership and has made her mark by spotlighting programming in eye-catching ways. This owner is active in her community, strengthening ties while building the brand and inspiring creativity.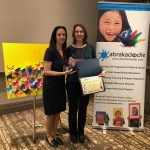 Abrakadoodle in the Media Award – Shelly Reed, Abrakadoodle North Texas
Recognizing the franchise owner who has promoted Abrakadoodle's brand using social media to tell the authentic story of her business in consistent and effective ways that reflects outstanding programming, relationships with partner schools and sites and serves to connect broader audiences.
Nomination Awards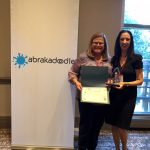 Mentor Award – Marianne Daley, Howard County, Maryland
This award recognizes a franchise owner who has contributed the most assistance to franchise owners in helping them grow their businesses according to the Abrakadoodle system as documented through the nomination process. This owner is a "collaborator extraordinaire" or as described by a fellow owner, "my angel." No request, email or phone call to this owner goes unanswered, no matter how busy this owner is. She genuinely believes that helping other owners to be successful is her responsibility as an Abrakadoodle owner – and that this helps build and project the Abrakadoodle brand.
Performance Awards
Top Doodle Dozen Awards – Dawna and Al Kelly (Detroit), Sue Walia (Northern VA), Margaret Cornwell (Montgomery AL), Krista Roberts (North Jersey).
Recognizing franchise brand builders who achieved top performance for twelve consecutive months. 
Doodle Dozen Awards – Nancy Delasos (Washington DC), Charla Stuart (Houston TX), Kim Nubel (Atlanta GA), Gertrud Luer (Minneapolis MN), Marianne Daley (Howard County MD), Barbara and Steven Gray (Denver CO), Juliana Kenj (Katy and West Houston), Pat Lakatta (Baltimore MD), Eileen Moore (Prince William County VA), Yolanda Smith (Loudoun County VA), Eric Cohn (San Antonio TX), Chris and Anna Firestone, (South Oakland County MI), Shelly Reed (North Texas), Ceneetra Anderson (Greater Cincinnati OH), Chinmay Deshmane (NW Suburbs of Dallas-Ft. Worth) and Ingrid Burnett (Wilmington DE).
Recognizing franchise owners who achieved top performance during one to ten months during the year.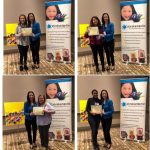 Silver Splat Award – Gertrud Luer (NW Suburbs Minneapolis & St. Paul), Kim Nubel (Atlanta GA), Marianne Daley (Howard County MD), Charla Stuart (Greater Metro Houston)
Special franchise recognition for owners who have achieved performance goals within the top 12 of the franchise system.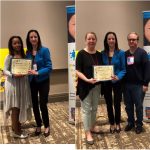 Silver Splat and a Half Award – Krista Roberts (Bergen, Essex and Hudson Counties NJ) and Nancy Delasos (Washington DC)
Special franchise recognition for owners who have achieved outstanding performance within the top five of the franchise system.
Gold Splat Award – Margaret Cornwell (Montgomery AL)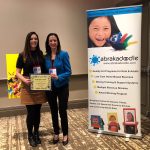 Special franchise recognition for the owner who has achieved exceptional performance within the top three of the franchise system.
Platinum Splat Award – Sue Walia (Northern VA)
Special franchise recognition for the owner who has achieved performance goals among the top two of the franchise system.
Platinum Plus Splat Award – Dawna and Al Kelly (Detroit MI)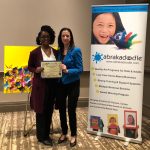 Top franchise recognition for the owners who achieve the highest performance within the franchise system. Rosemarie Hartnett presented Dawna with an original painting to honor the Kelly's pinnacle of achievement.
Top Monthly Revenue Award – Dawna and Al Kelly (Detroit MI)
Additional Awards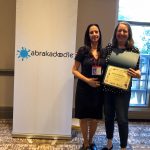 Brand Ambassador Award – Nancy Delasos, Abrakadoodle Washington DC
This owner takes a truly "what is in the best interest of the brand" approach to relationships she builds and opportunities she sees in the marketplace. She has invested time and talent to gather a franchise group to respond to a regional summer camp opportunity that has resulted in a wonderful business opportunity for owners from New York, New Jersey/Pennsylvania and Maryland
Trail Blazer Award – Juliana Ken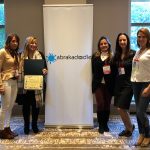 j, Romina Moscoso, Julieta de Cara and Dana Yannone, Co-Owners of now two Abrakadoodle franchise units serving West Houston
The winners of this award are neighboring franchise owners who saw the wisdom in joining forces to leverage their skill sets to grow both units to higher levels. Now the Houston "Quatro," these savvy business owners will serve West Greater Houston, as well as Katy and West Houston with energy and enthusiasm as they seek to more efficiently grow the brand.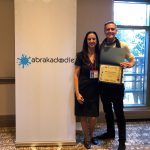 Braveheart Award – Colby Detwiler, Pensacola, Florida
This franchise owner originally joined Abrakadoodle as a teacher and saw franchise ownership as a natural next step in his professional journey. This owner continues to present himself and the brand in the most positive and professional way, and we expect Colby will rise in our ranks as a true brand 'Braveheart.'
Poised for Growth Award – Kathleen Norris, Greensboro, North Carolina
This new franchise owner joined Abrakadoodle in early 2019 and demonstrates a big picture approach to getting established in her community. She recently availed herself of an opportunity to present at a group meeting of PTO heads in her territory. Well received, she will be doing a Creativity Workshop with the group, along with simultaneously offering art activities for children. With after school programs and ISF events running, this owner is looking to expand her Twoosy and Mini Doodler programming. Kathleen is poised for growth!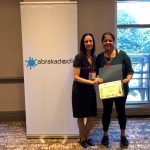 Dedication Award – Miggy Ortiz, Queens, New York
This franchise owner has always represented a joyful and positive presence in her community. Leveraging her relationship within the Catholic school network, she has built solid relationship with four of these faith-based schools, as well as a Yeshiva School in her territory – each counting upon her for programming year after year. Miggy was among the first to jump into assisting and collaborating with other owners on a regional business opportunity.
Franchise Advisory Council (FAC) Awards – Sue Walia, Chair; Dawna Kelly, West/Central and Vice Chair; Kim Nubel, SW Rep; Eileen Moore, East Coast Rep
Recognizing Brand Leaders who share their time, talents and expertise to build a stronger brand.