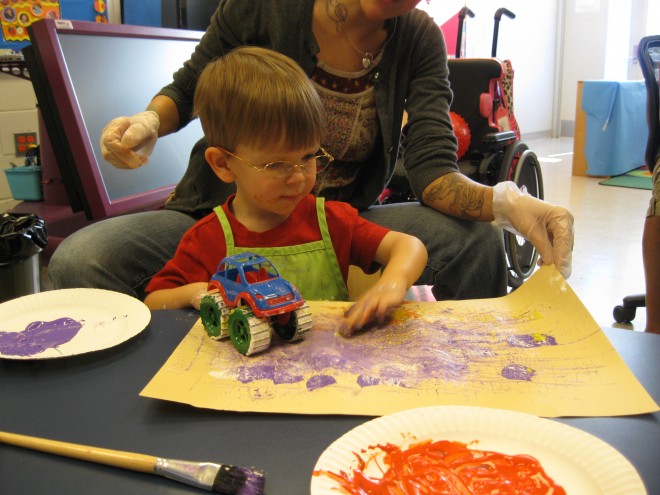 Arts for All Auction Makes Tracks Toward Inclusion
"Look what I made!" Gleeful kids exclaim their pride in artistic accomplishments every day in Abrakadoodle art programs. That's why Abrakadoodle is committed to Arts for All – to make sure that all kids, regardless of ability or economic situation, can enjoy the many benefits of art education.
Kicking off its 2014 annual conference at the Hyatt Regency Reston Town Center, Abrakadoodle hosted its first-ever Arts for All Auction to help raise money to fund art programs across the United States. One-hundred percent of the funds raised are used to provide Abrakadoodle art education programs to underserved, disadvantaged children. Abrakadoodle's Arts for All program was initially dedicated to the memory of Joan McGurren, the talented artist who created Abrakadoodle's mascot, Splat. Programs are selected from applications submitted by Abrakadoodle franchise partners. Since 2008, Abrakadoodle's Arts for All initiative has funded such programs as art classes at a homeless shelter, a model school for low income deaf and hard of hearing children, as well as art classes for children with disabilities and summer camp programs to benefit economically disadvantaged young teens, among others.
"Every year we take great pleasure in identifying and selecting programs that enable us to reach students who would otherwise not be able to take part in our art programs," remarked Mary Rogers, Co-Founder and CEO of Abrakadoodle.
We are so grateful to our art donors, who helped raise over $2400. Don Kennedy, franchise owner in Grand Rapids, Michigan, won the 2014 Art in the Heart Award for his dedication to the Abrakadoodle's Arts for All initiative, which was evidenced by a number of art donations he obtained to support the event to include numerous handmade pins and magnets made by Don and his students especially for Arts for All.
2014 Art Donors
Becky Anzelone of Herndon, VA – handmade ceramic vase
Glen Ayers of Plano, TX – mix media watercolor, "Big Foot Angel"
Leonor Alvim Brazao of Sterling, VA – acrylic painting, "Fruit from Brazil II" (www.brazao.com)
Patience Brewster of Skaneateles, NY – "Vineyard Harvest Fairy" and "Eggplant in TuTu" (www.patiencebrewter.com)
Sally Bulthuis of Grand Rapids, MI – two, author/illustrator signed children's books
Jose Freitas Cruz of Vientaine, Laos – acrylic, "Landscapes from Nowhereland" (www.absolutearts.com/portfolios/f/freitascruz/
Mary Duran of Detroit, MI – yarn art, framed, "Variegated Colors"
Amanda Freeman of Moore, OK – painting, "Peope of Luba Tribe"
Ellen Welch Granter of Brookline, MA, framed print "Finches" (www.ellengranter.com)
Alfie M. Green of Detroit, MI – watercolor, "Artistic Dance" (www.amgdesigns.org)
Rosemarie Hartnett of Great Falls, VA – watercolor, "A Small Moment"
Melissa Henderson of Glendale, AZ – mixed media watercolor, "Watercolor of Hydrangeas"
Mary Rand Hess of Ashburn, VA – mixed media, framed, "Do One Thing" (madamemixedmedia.blogspot.com)
Maureen Holleran of Fairfax, VA – folded paper art, "Celtic Cross"
Don Kennedy of Grand Rapids, MI – 54 original Arts for All pins and magnets
Maryann Kohl of Bellingham, WA – two process art books (www.brightring.com)
Annie Ward Love of Richmond, VA – T-Shirt and prints, "Love Lines Art" (www.lovelinesart.com)
Susan Parker of Montgomery, AL – acrylic painting, framed, "Blue and White with Yellow Tulips"
Katie Rattigan of Berkley Springs, WV – Clay Wall Plaque (www.wildthingpottery.com)
Ana Razuk of Genestrerio, Switzerland – embroidery on handmade paper, "Dream #12" (www.anarazuk.com)
Diane B. Reed of College Place, WA – photograph, "Northern Flicker on a Sourwood Tree" (www.ponderingsbydianereed.blogspot.com)
Mary Rogers of Williamsburg, VA – mobile, "Tickle Tackle Spread the Spackle"
Jennifer Schuck of West Bloomfield, MI – oil painting, framed, "East Indian Girl Wearing Flower Necklace"
Julia Shen of Phoenix, AZ – two acrylic paintings, "A Bison Surviving in Yellowstone National Park" and "The Horse and the Fence"
Morten E. Solberg of Spring Hills, FL – three giclee prints (www.mortensolberg.com)
Tauna Solberg of Spring Hill, FL – One-of-a-Kind SPLAT Mask (www.etsy.com/people/Tesabeth77)
Alberto Vargas of New York, NY – photograph, "Centre Street, NYC 2013 (www.albertovargasphoto.com)
Ethan Welch of Brighton, NY – oil painting, framed, "Timber Inland Off Goose Rocks, ME"
Natasha Wescoat of Clio, MI – Three-Piece Painting on Canvas (www.wescoatfineart.com)
Diane Shearon Wikel of Leesburg, VA – oil portrait, framed, "Portrait of an Oyster"