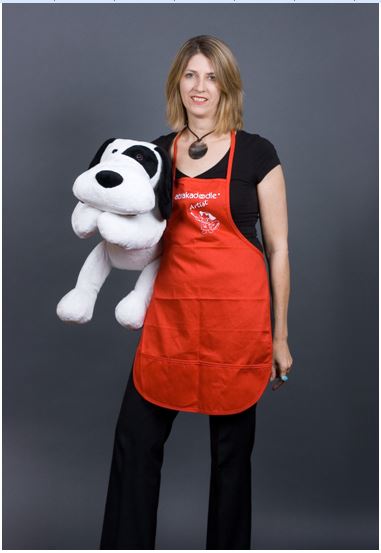 Artful Balance: Single Working Mother of Three Combines Love of Art with Business
A purple thumb print sealed the deal, as Sue Walia celebrated 10 years at the helm of Abrakadoodle-Northern Virginia by signing up for another decade of franchise ownership. It's not surprise that the contract signing was as unique, colorful and creative as the franchise company and its owner/partners whom proudly represent the brand.
"This is what I always wanted to do," Sue explained, which goes all the way back to high school, where she was known as the "art girl." She grew up in a family that valued art and music. Born in South Dakota, Sue attributes her strong work ethic to her childhood spent as a farmer's daughter. Her family moved to Southwest Virginia during her high school years. Sue graduated from Radford University, where she majored in Fashion Design and moved to Northern Virginia in her twenties. She spent 13 years working in the Investment Brokerage business, where she learned sales, marketing and money management skills.
Sue sat next to Mary Rogers, Abrakadoodle's co-founder and CEO at a Reston Chamber of Commerce networking event. Abrakadoodle was then a part of Reston's business incubator program. She recalls her desire to explore Abrakadoodle for possible art enrichment for her kids. What she discovered was a business opportunity that combined her love of art with her business savvy, and she was hooked. Sue's kids were then 2, 4 and 5 years old, and she faced a crumbling marriage and concerned family and friends. For reasons she still appreciates, Sue moved forward with her franchise purchase in 2004. "With three little children, I really wanted a home-based business," Sue offered.
Sue took on the daunting challenge of growing a new business while finalizing a divorce and raising three young children. "I had to make money to live," Sue said. "I was stock girl one minute and CEO the next." Sue's three children Briana (now 12), Tristan (now 14) and Marissa (now 15) grew up with the franchise. Tristan was one of the early faces of Abrakadoodle, having taken part in a photo shoot at age five. Marissa has been a camp assistant, and all of Sue's kids have helped with aspects of the business ranging from sorting art supplies to filling in participant spots in classes as Sue was building her program. She characterizes all of her children as creative and has always ensured that they could pursue a myriad of interests from youth choir and fencing to guitar, ballet, volleyball and even Parkour natural movement training. She recollects making appointments and doing business from her mobile phone, as she dropped off or picked up her kids from their many activities.
In the beginning, Sue stored everything in her house, which got pretty crazy when she stocked items for the enormous number of art camps and programs she delivered at sites all over Northern Virginia. Sue now leases space that provides her room for staff meetings and training, birthday parties, as well as storage.
From the outset, Sue has been an outstanding performer at Abrakadoodle, earning annual awards from 2007 through 2014. "Sue is a natural relationship-builder," stated Rosemarie Hartnett, Co-founder and President of Abrakadoodle. "Her ability to develop a capable instructional team in addition to her superior networking skills has certainly contributed to her success." Sue has been a regular on the company's Top Producer's List, where her performance has consistently ranked among the best in Abrakadoodle's system from 2009 to 2014. Her achievements include numerous "WOW" excellent ratings among site administrators and parents surveyed about their respective experiences with Abrakadoodle.  Sue has also been recognized with such honors as the company's Splat and Purple Tree Awards, and this year Sue was recognized by her peers with the 2014 Mentor Award.
"I've worked hard," Sue said. "I am still enjoying my Abrakadoodle business and still need the flexibility to raise my kids." She finds many aspects of the business rewarding, such as seeing what kids do with concepts presented in class. "Hugs are definitely cool, too," Sue added. She said that it is fun when her kids tell her that their friends have participated in Abrakadoodle programs. "I feel like I've touched lives."
Sue not only continues to enjoy creating art, but she also loves to sing. Her mom was a violinist and directed a church choir. After losing her mom to Lou Gehrig's disease, Sue joined a gospel choir as a tribute to her mom. Most recently, Sue started singing with a band four years ago. She said they produce a CD every year and perform benefit concerts, with the band raising as much as $75,000 in their best year for worthwhile charities.
Abrakadoodle is woven into the tapestry of Sue's life, enabling her to live a life rich with experiences. While she describes her Falls Church, Virginia house as a modest Cape Cod that needs work, Sue enjoys her active children, an annual beach trip and a rewarding franchise business that improves lives with art.