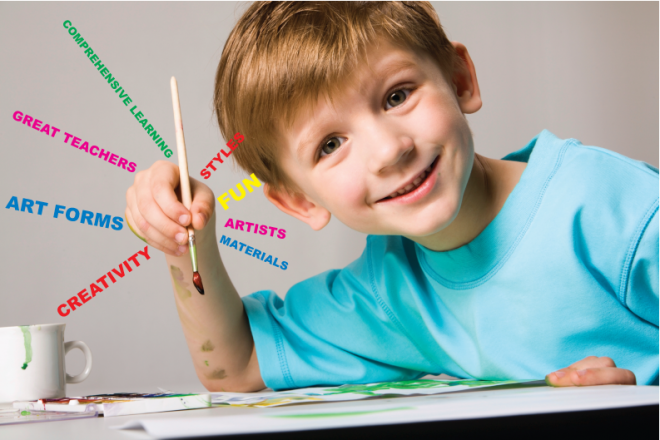 What's the #1 Reason Parents Choose Abrakadoodle?
Why Abrakadoodle? That's one of the important questions we asked more than 3000 parents in our 2014 survey.  You might be surprised to learn that the number one parent response was that they want their kids to be CREATIVE! This marked a change from our previous surveys in which parents have cited that the number one reason they sign their kids up for Abrakadoodle is to have FUN. That response is now number 2!
I'm happy to see that creativity tops the list of reasons why parents chose Abrakadoodle this year," commented Rosemarie Hartnett, Co-founder and President of Abrakadoodle. "It shows an increased awareness in our parents about the importance of creative education." She added, "Participating in Abrakadoodle helps kids to problem-solve, experiment and see new and different ways to do things. This leads to innovation that kids can apply in all aspects of their lives now and in the future."
Parents' other top reasons included the opportunity for their kids to work with a skilled teacher, exposure to many forms of art such as painting, sculpture and drawing and the opportunity to learn about artist styles, cultures, history and art materials.
Additionally parents gave Abrakadoodle high marks. Ninety-six percent (96%) of parent respondents stated that they were happy, very happy or WOWed by the Abrakadoodle program, with the category receiving the highest number of responses being WOW!  Sixty-five percent of our parents said they enrolled their children in more than one program and reported that their children also participated in Abrakadoodle camps (23%) and parties (12%).
We take our survey results very seriously. If we receive a complaint, we act upon it. We appreciate suggestions and feedback to improve our program. Of course, we love the enthusiastic comments, too. Check out what a few of our parents said:
"She is over the moon about these opportunities." ~ Naomi L.
"My son LOVED it. He took your classes 3 or 4 years ago and still has some of his projects hanging in his room. The frames added something enduring to the art, because without the frames, they probably would not still be on display." ~ Deborah P.
"She is just having so much fun creating each week." ~ Renee W.
"Very impressed with the range of art types/styles that our daughter brings home. Not sure who is more proud, us or her. Very, very happy with the program." Sharmell K.
A big thank you to all of our parent survey respondents! Our creative community is growing with more than one-million kids who have taken part in our program worldwide. Your responses not only inspire us but also renew our commitment to be the best we can be!