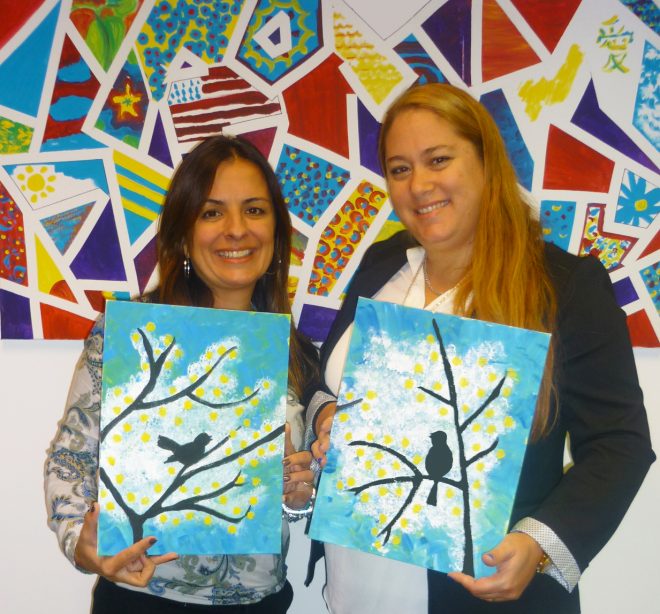 NEWS: Abrakadoodle Welcomes New Owners to Katy and West Houston Franchise Location
Sterling, VA, April 18, 2017 – Abrakadoodle is pleased to welcome Juliana Kenj and Maria Buiatti (photo left), who purchased the Katy and West Houston franchise. They are bringing award-winning creative, mobile art programs to benefit children and adults in their community. The entrepreneurial working moms share a passion for art, children and education, as well as a shared South American heritage. With a goal of helping kids to develop important creativity and right-brains skills, Maria and Juliana will be establishing a wide range of art programs to include visual arts classes, camps, workshops, in-school field trips, special events and arty parties delivered at schools, community centers, and other sites that serve children. Abrakadoodle also offers creative art programs and social art parties and events through its Art Splash program, which is designed specifically for adults. Abrakadoodle Katy and West Houston serves communities including all of Katy and Memorial Parkway, Addicks Park, West Memorial, Pine Forest, Eldridge/West Oaks, Briar Forest and Westchase. Half and full-day summer art camps are enrolling now at Katy Cross-Point Community Church and Katy-Kingdom and Wheels, as well as after school programs at several locations. Learn more about Abrakadoodle Art Education of Katy and West Houston or register by visiting www.abrakadoodle.com/tx-katy-west-houston-register/.
"We are pleased to welcome Maria and Juliana to our award-winning Abrakadoodle franchise system," said Rosemarie Hartnett, CFE, President and Co-Founder of Abrakadoodle, Inc. "They bring strong business, management, education and franchise experience that will help them build a strong and vibrant visual arts program to serve the community."
Originally from Sao Paulo, Brazil, Juliana Kenj graduated in Dentistry and dedicated most of her career to her private practice. In 2006, Juliana's husband was transferred by his company from Brazil to the U.S. "We saw this as a great opportunity for gaining international experience, and from my personal standpoint, I viewed this as a chance to further expand my knowledge in a variety of ways in a new career," said Juliana. Since arriving in the Houston area, Juliana has worked at different companies. "I am confident my work experience within different fields along with all my skills and abilities will help me to achieve success with Abrakadoodle," Juliana stated. Juliana and her husband have two children and have been living in Houston area since they moved to US.
With a Bachelor's degree in Business Administration from the Catholic University of Argentina, Maria Buiatti plans to use her education and 14 years of business experience to benefit a strong, community-centered business. She has since 2014 been the co-owner and operations manager for a smoothie franchise in Houston. Prior to that, Maria had the good fortune to grow in positions of responsibility with her family's business until her move to Houston in 2014. "I feel that my extensive experience in the management of small businesses will serve me well with Abrakadoodle." In terms of the Abrakadoodle opportunity, Maria said, "I think Abrakadoodle is a very original business idea with a very strong support from HQ, which is different from other franchisors." Maria lives in Katy with her husband and son.
Abrakadoodle of Katy and West Houston is hiring teachers. If you enjoy art and working with children, contact Juliana Kenj at jkenj@abrakadoodle.com to inquire about employment opportunities. To learn more about creative art programs or to bring Abrakadoodle classes and activities to your location, please go to www.abrakadoodle.com/tx-katy-west-houston or call (832) 243-2578. Visit Abrakadoodle Art Education Katy and West Houston on Facebook for program updates.
Sterling, VA-based Abrakadoodle (www.abrakadoodle.com) was co-founded in 2002 by award-winning educators/franchise developers Mary Rogers, CFE, MA. Ed (Retired), and Rosemarie Hartnett, CFE. Abrakadoodle is the most comprehensive creativity and art education company of its kind, offering extensive visual arts classes, camps and parties for children ages 20 months to 14 years old at locations across the U.S. and in several international locations. Abrakadoodle's programs inspire children's imaginations by immersing them in such art forms as painting, sculpting, drawing, mosaics, collage, stamping, anime, paper & fabric art and much more at schools and other community locations. Abrakadoodle's Art Splash program features creative art parties and events designed for adult "artventurers."
# # # # #