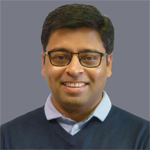 NEWS: Abrakadoodle Welcomes New Owner to NW Suburbs of DFW Texas
Engineer Chinmay Deshmane acquires art franchise; plans launch of children's art and creativity programs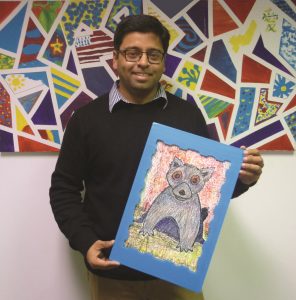 Sterling, VA, December 20, 2017 – Abrakadoodle is pleased to welcome new franchisee Chinmay Deshmane to its newest franchise territory serving the Northwest Suburbs of Dallas and Fort Worth by bringing award-winning creative, mobile art programs to benefit children and adults. Dr. Deshmane, who has always enjoyed sketching and painting, is realizing a dream to own his own business that enables him to enjoy his family while providing art programs that will benefit children. He will be offering Abrakadoodle's visual arts classes, camps, workshops, in-school field trips, special events and arty parties delivered at schools, community centers, and other sites that are accessible to members of the community. Abrakadoodle also offers creative art programs and social art parties and events through its Art Splash program, which is designed specifically for adults. Abrakadoodle will be serving Dallas-Ft. Worth suburbs to include McKinney, Frisco, The Colony and Lewisville. Learn more about Abrakadoodle Northwest Suburbs of Dallas-Ft. Worth by visiting http://www.abrakadoodle.com/tx-nw-suburbs-dallas-ft-worth/.
"We are pleased to welcome Chinmay to our award-winning Abrakadoodle franchise system," said Rosemarie Hartnett, CFE, President and Co-Founder of Abrakadoodle, Inc. "Chinmay brings a genuine warmth, intelligence and passion for art that combined with his strong educational background and personal experience with STEAM (Science, Technology, Engineering, Art and Math) will equip him in building a vibrant business."
Chinmay Deshmane earned his PhD in Chemical Engineering from the University of Louisville, where he worked for several years as a Graduate Research Assistant. The Plano resident is married to his wife Shivani and has two sons under two years old. "With my interest in art and a desire to work in a flexible environment that allows me to enjoy fatherhood, Abrakadoodle was a great fit for me," Chinmay remarked. He is keenly interested in bringing an array of wonderful art experiences to children, as he believes that these "experiences will stay with them for years to come." With his background in science and engineering, Chinmay understands the value of Abrakadoodle's STEAM curriculum, which he believes will help cultivate interest and confidence in these disciplines. Abrakadoodle's Process Art methodology also resonated with Chinmay, who believes that this approach to learning helps open children to creative ways of thinking and doing.
Abrakadoodle Northwest Suburbs of Dallas-Ft. Worth is hiring teachers. If you enjoy art and working with children, contact Chinmay Deshmane to inquire about employment opportunities. To learn more about creative art programs or to bring Abrakadoodle classes and activities to your location, please go to (website) or contact Chinmay Deshmane at cdeshmane@abrakadoodle.com or call (337) 412-4462. Visit Abrakadoodle TX  Northwest Suburbs of Dallas on Facebook for program updates.
Sterling, VA-based Abrakadoodle (www.abrakadoodle.com) was co-founded in 2002 by award-winning educators/franchise developers Mary Rogers, CFE, MA. Ed (ret), and Rosemarie Hartnett, CFE, President. Abrakadoodle is the most comprehensive creativity and art education company of its kind, offering extensive visual arts classes, camps and parties for children ages 20 months to 14 years old at locations across the U.S. and in several international locations. Abrakadoodle's programs inspire children's imaginations by immersing them in such art forms as painting, sculpting, drawing, mosaics, collage, stamping, anime, paper & fabric art and much more at schools and other community locations. Abrakadoodle's Art Splash program features creative art parties and events designed for adult "artventurers."
# # # # #
Abrakadoodle and the Abrakadoodle logo are registered trademarks. Copyright © 2017 Abrakadoodle, Inc.   All rights reserved.