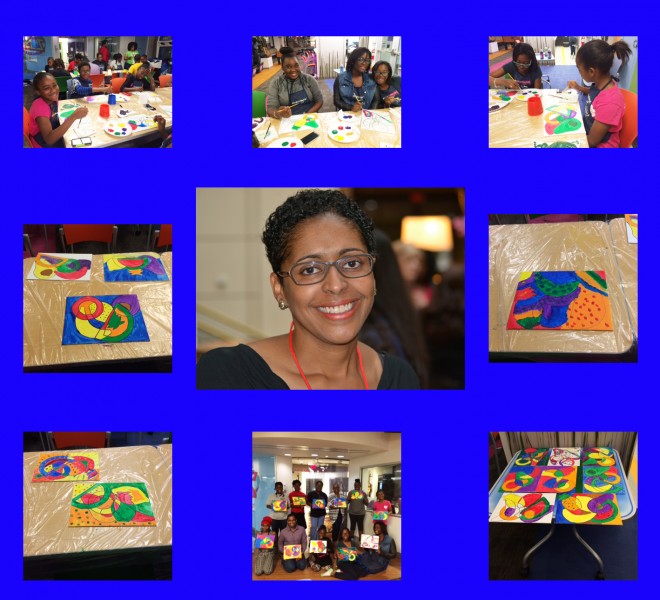 This Franchise Friday We Honor a Franchisee Making a Difference: Charla Stuart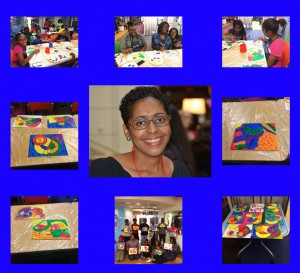 Abrakadoodle Greater Metro Houston Brings Creative Cheer to Sickle Cell Patients
A two-time winner of Abrakadoodle's Arts for All Scholarship, Charla Stuart of Abrakadoodle Greater Metro Houston (photo, center) has demonstrated commitment and compassion in her work with the Texas Children's Hospital. She and her committed team of talented teachers bring art with heart to give children a break from dealing with serious health challenges. It is her reputation for excellence that prompted a call from Danielle Coleman, a Certified Child Life Specialist II with Texas Children's Hospital Hematology, inviting her to add art to a special event planned for patients. Last Friday, February 19th, a group of teen patients with sickle cell disease participated in a 12-hour lock-in event at the hospital. Charla and her team conducted a two-hour art session from 9:30pm to 11:30 pm in which the teens created art in the colorful style of Leonor Brazao, Abrakadoodle's Artist-in-Residence. In fact, Leonor took part in the event via FaceTime, enabling the teens to see her and her original artwork "Fruit from Brazil" in her house in Northern Virginia. She enjoyed answering their questions and inspiring their imaginative creations.
"My job as a Child Life Specialist is to provide play and education to our patients and families to reduce their anxiety while promoting positive coping in the hospital setting," stated Danielle Coleman, MS, CCLS. "Patient's with sickle cell disease often have routine office visits with their providers and are required to take certain medications, which causes feelings of isolation from their peers in the community. Activities like the lock-in that focus on teen patients with sickle cell disease allows them to meet other teens with the same diagnosis. Many of these patients do not know or have never met another individual with the same diagnosis.  This event provides an opportunity for peer normalization and interaction.  As a result, patients do not feel as isolated and are more likely to accept their diagnosis which can encourage compliance with their treatment plan."
What is sickle cell disease? Sickle cell anemia is a hereditary form of anemia in which the red blood cells become sickle-shaped (like a crescent) and less able to carry oxygen. It is a chronic disease that occurs most frequently in people of African descent.
We salute the caring team of health care providers and administrators at Texas Children's Hospital and our franchise owner Charla Stuart and her Abrakadoodle art team for making a difference in the lives of brave children and teens who face ongoing health challenges.