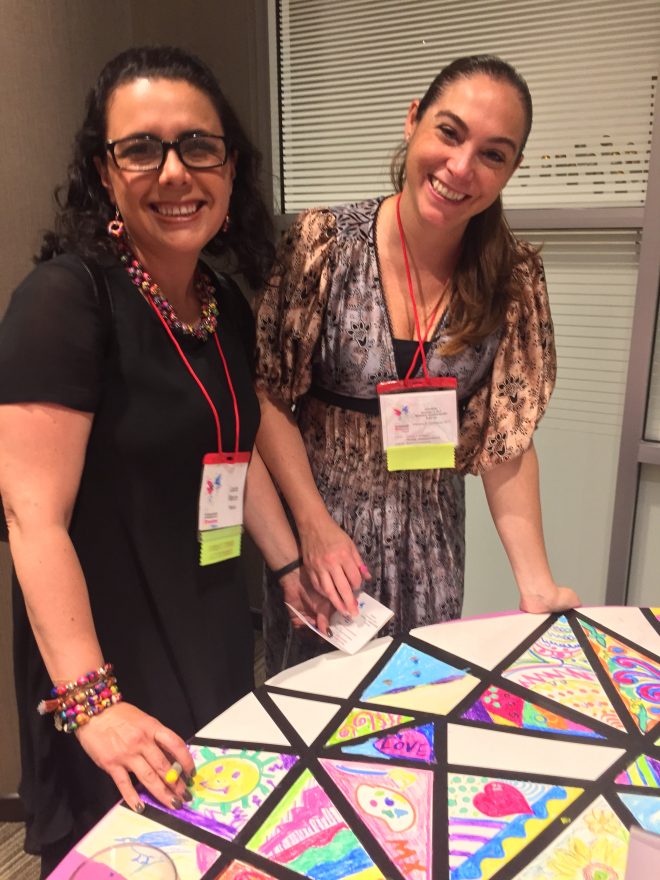 NEWS: Abrakadoodle Welcomes New Master Franchise Owner: MEXICO

Contact: Karin Machusic, Director of PR
(Mobile) 925-708-2179; Karin@abrakadoodle.com
Abrakadoodle Remarkable Art Welcomes Newest International Master Franchise: MEXICO
Mariana Igartua & Jose Andres Ferraez-Quintanilla to launch children's art and creativity programs in Mexico City
Sterling, VA, November 15, 2017 — Abrakadoodle enthusiastically welcomes Mariana Igartua and Jose Andres Ferraez Quintanilla, who are launching Abrakadoodle art education in Mexico City in early 2018. Experienced with franchising, Mariana and Andres successfully brought the franchise, LUSH Cosmetics, to Mexico. In evaluating the Abrakadoodle franchise, Mariana said that they "wanted a meaningful business to make the world better." She sees Abrakadoodle as a means to improve education in Mexico with comprehensive art education that builds creativity, critical thinking skills and more importantly innovation. Abrakadoodle is the most complete art education company of its kind, offering extensive arts education for children ages 20 months to 14 years old. Abrakadoodle Mexico will deliver a wide range of art programs to include after school art classes, camps, workshops, special events and parties at Abrakadoodle Art Studios, as well as via partnerships with schools and other community sites. In addition to its creative children's programming, Abrakadoodle offers social art parties and events through its Art Splash program, designed specifically for adults. Photo: Laura Marcin, left with Mariana Igartua ~ creating wings at Abrakadoodle's annual Conference.
"We are very pleased to welcome Mariana and Andres to our award-winning, global Abrakadoodle family," said Rosemarie Hartnett, CFE, President and Co-Founder of Abrakadoodle, Inc. "With their franchise experience and Mariana's background in promoting cultural and social projects enriching many audiences, including children, they are well-positioned to develop a vibrant program to bring high quality art programs to benefit culturally rich Mexico City."
Jose Andres Ferraez Quintanilla is an attorney in Mexico, who is well-versed in business. Together with Mariana Igartua, they will make a great team. Mariana Igartua studied marketing at ITESM in Mexico City. She was in charge of the Marketing and Product Development team in different companies and industries in Mexico. She worked for five years for the Comex group as Product Manager, developing children's room concepts. During the last eight years, Mariana worked as Marketing Director, focusing and promoting cultural and social projects enriching many audiences, including children. They are experienced in franchising, having brought the LUSH cosmetics franchise to Mexico.
Laura Marcin, Abrakadoodle Mexico's Teacher/Manager, joined Mariana at Abrakadoodle's annual Conference and franchise training immediate after. Laura is an architect and received training in plastic and visual arts in Florence, Italy. She has been an art teacher since 2003 and has obtained numerous certifications. Laura is impressed with Abrakadoodle because she said, "Art offers great experimentation practices and provides a strong methodology for lessons with excellent objectives and results."
About Abrakadoodle:
Sterling, VA-based Abrakadoodle (www.abrakadoodle.com) was co-founded in 2002 by award-winning educators/franchise developers Mary Rogers, CFE, MA. Ed (Retired), and Rosemarie Hartnett, CFE. Abrakadoodle is the most comprehensive creativity and art education company of its kind, offering extensive visual arts classes, camps and parties for children ages 20 months to 14 years old at locations across the U.S. and in several international locations. Abrakadoodle's programs inspire children's imaginations by immersing them in such art forms as painting, sculpting, drawing, mosaics, collage, stamping, anime, paper & fabric art and much more at schools and other community locations. Abrakadoodle's Art Splash program features creative art parties and events designed for adult artventurers.
# # # # #
Abrakadoodle and the Abrakadoodle logo are registered trademarks. Copyright © 2017 Abrakadoodle, Inc. ll rights reserved.