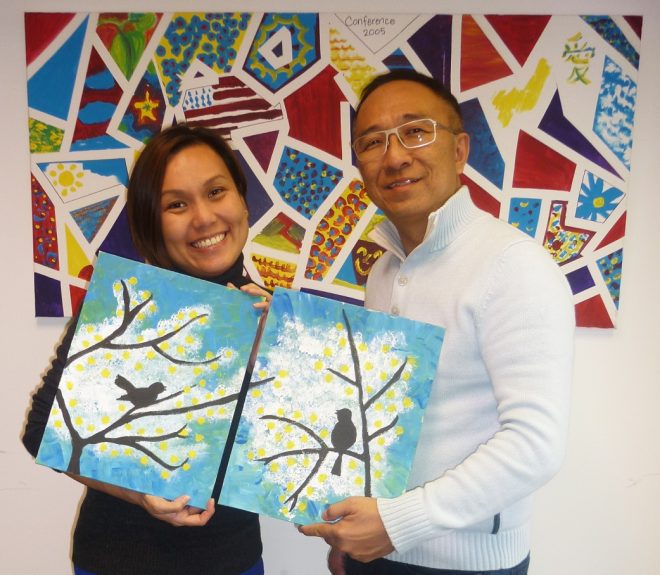 NEWS: Abrakadoodle Welcomes New Singapore Owners
Sterling, VA, March 21, 2017 – Abrakadoodle is pleased to welcome Grace Low and Eric Lim, who acquired the Master Franchise for Abrakadoodle Singapore. They purchased the business, which presently operates two Abrakadoodle Art studios. The entrepreneurial husband and wife team bring strong franchise and business experience. For the past 10 years, Grace and Eric have been running the My Gym Singapore Master Franchise, which they have successfully expanded. In fact, the pair was recently recognized with the "Spirit of Enterprise" Award in Singapore. According to Grace, their first priority is to launch Abrakadoodle programs in their seven My Gym locations. Thereafter, they plan to work on finding franchisees to run Abrakadoodle art studio locations in Singapore. "We see alot of synergy between My Gym and Abrakadoodle as they share the similar set of customers," Eric explained and added, "We feel that My Gym provides children with physical and cognitive skills development, while Abrakadoodle builds cognitive skills and creativity through arts education." Learn more about Abrakadoodle Singapore by visiting www.abrakadoodle.com.sg.
"We are very pleased to welcome Grace and Eric to our award-winning Abrakadoodle franchise system," said Rosemarie Hartnett, CFE, President and Co-Founder of Abrakadoodle, Inc. "Their values system aligns very well with Abrakadoodle, and they have the business network and knowledge to effectively grow our brand."
In evaluating the Abrakadoodle concept, Grace Low remarked, "I was impressed with Abrakadoodle's approach toward art education, with students learning by experimenting, discovery and working at their own pace. As parents and as franchisors in the children's services industry, it was important to us that we share a common philosophy and mission. We are very excited to expand the Abrakadoodle brand in Singapore."
Grace Low earned a bachelor's degree in economics and statistics from the National University of Singapore. For the past 10 years, Grace has partnered with her husband as Master Franchisor for My Gym Singapore with a recent expansion to include My Gym South East Asia. Prior to franchising, Grace was a business consultant with an international consulting company where she was responsible for many ERP and CRM implementation, specialising on end users' training and change management. "I supported a variety of different processes and business environments," Grace said. She added, "These experiences have helped provide me with a broad perspective to direct franchise operations."
Eric Lim earned his bachelor's degree in engineering from the University of Bradford in the UK, and he obtained an MBA from the Macquarie Graduate School of Management in Australia. Once their children were born, Eric and Grace began seeking a children's enrichment franchise, which led them to sub franchise a single My Gym unit. "My vision was to grow into a larger organization," stated Eric. In a short time, they purchased the Master Franchise for Singapore and grew from two to six units, which resulted in receiving the Promising Franchisor of the year by Singapore Franchising and Licensing Association of Singapore. As part of their growth strategy, Eric said they acquired the Southeast Asia Master Franchise for My Gym. When Eric learned about Abrakadoodle, he recognized an opportunity for further expansion, noting a synergy between My Gym and Abrakadoodle customers. "Abrakadoodle is a proven concept, and we are excited to expand our overall program reach and meet parent needs for high quality programs that provide their children with valued skills and creativity," commented Eric.
Sterling, VA-based Abrakadoodle (www.abrakadoodle.com) was co-founded in 2002 by award-winning educators/franchise developers Mary Rogers, CFE, MA. Ed, and Rosemarie Hartnett, CFE. Abrakadoodle is the most comprehensive creativity and art education company of its kind, offering extensive visual arts classes, camps and parties for children ages 20 months to 14 years old at locations across the U.S. and in several international locations. Abrakadoodle's programs inspire children's imaginations by immersing them in such art forms as painting, sculpting, drawing, mosaics, collage, stamping, anime, paper & fabric art and much more at international studio locations, U.S. schools and other community locations. Abrakadoodle's Art Splash program features creative art parties and events designed for adult "artventurers."
# # # # #