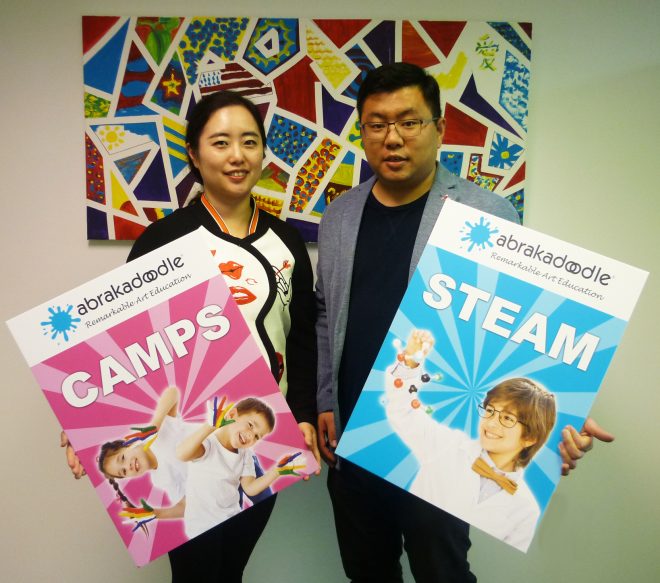 NEWS: Abrakadoodle Opens 'Down Under'

Abrakadoodle Welcomes International Master Franchise: AUSTRALIA
Denise Wang and Chris Li acquire master franchise and plan to initiate the launch of art programs in Sydney.
Sterling, VA, October 2018 – Abrakadoodle enthusiastically welcomes Denise Wang and Chris Li, who are launching their Abrakadoodle art education master franchise in Sydney, Australia. Experienced with franchising, Denise and Chris successfully brought the My Gym franchise to Sydney last year. The husband and wife duo said that they view Abrakadoodle as the top global brand in visual arts education. "I feel that we belong in this Abrakadoodle family," Denise said. "Creativity is necessary," commented Chris, "it cannot be replaced with automation, and Abrakadoodle's creative art program will benefit kids." Abrakadoodle is the most complete art education company of its kind, offering extensive arts education for children ages 20 months to 14 years old. Abrakadoodle Australia will deliver a wide range of art programs to include after school art classes, camps, workshops, special events and parties, as well as via partnerships with schools and other community sites. They will initially provide Abrakadoodle programs in a studio within their My Gym location but plan to launch a separate Abrakadoodle Art Studio in the coming months. In addition to its creative children's programming, Abrakadoodle offers social art parties and events through its Art Splash program, designed specifically for adults. Once programs are successfully launched in Sydney, Chris and Denise plan to expand in Australia by offering sub franchise opportunities. Photo above: Denise Wang and Chris Li.
"We are very pleased to welcome Denise and Chris to our award-winning, global Abrakadoodle family," said Rosemarie Hartnett, CFE, President and Co-Founder of Abrakadoodle, Inc. "With their business acumen and franchise experience, as well as Denise's passion for the visual arts, they are well-positioned to develop a vibrant program to bring high quality art programs to benefit Australians."
Chris Li graduated from the University of Sydney in 1998, where he studied finance and econometrics and met his now wife Denise Wang. Most recently, he and Denise acquired the My Gym master franchise and successfully opened that business in Sydney. He brings varied career financial experiences including banking, money management and real estate investment. Mr. Li looks forward to this business development opportunity and remarked that Abrakadoodle programs are "high level but accessible and a good value" for customers. He believes his tenacity and attention to detail will serve him well as he expands local partnerships and brings his master franchises together into a unified educational platform.
Denise Wang graduated from the University of Sydney and went on to earn her CPA. While Denise has gained business experience in her career that entailed international assignments in Tokyo and Hong Kong, she realized that her heart remains with art. She has been involved in creating art since she was five years old and has shown interest and aptitude in learning many art styles and forms – from watercolor and oils to 3D and paper art. In fact, Denise found the comprehensive nature of Abrakadoodle programs to be very attractive. "Abrakadoodle provides a great variety of art – not just 2D, and kids learn about a wide array of artists, world cultures and use their imaginations to solve problems." With a facility for communications, Denise reaches thousands of families with her online mother's group in which she shares advice, support and resources. After deciding to pursue children's services franchising, Denise obtained a Childhood Education diploma to complement her credentials. "I look forward to setting up our Abrakadoodle Art Studio and bringing the brand to a high level in Australia," she commented. Denise and her husband Chris have a four-year old son.
About Abrakadoodle:
Sterling, VA-based Abrakadoodle (www.abrakadoodle.com) was co-founded in 2002 by award-winning educators/franchise developers Mary Rogers, CFE, MA. Ed (Retired), and Rosemarie Hartnett, CFE. Abrakadoodle is the most comprehensive creativity and art education company of its kind, offering extensive visual arts classes, camps and parties for children ages 20 months to 14 years old at locations across the U.S. and in several international locations. Abrakadoodle's programs inspire children's imaginations by immersing them in such art forms as painting, sculpting, drawing, mosaics, collage, stamping, anime, paper & fabric art and much more at schools and other community locations. Abrakadoodle's Art Splash program features creative art parties and events designed for adult "artventurers."
# # # # #
Abrakadoodle and the Abrakadoodle logo are registered trademarks. Copyright © 2018 Abrakadoodle, Inc.   All rights reserved.