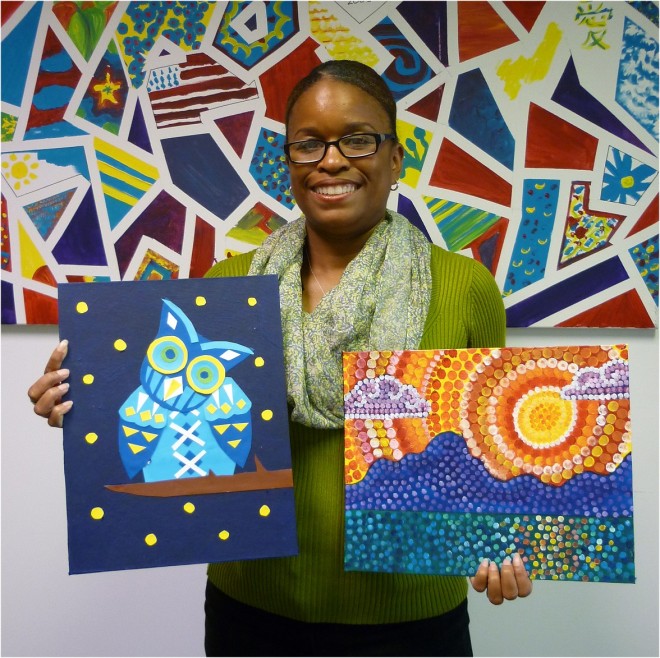 Abrakadoodle Opens in Cincinnati
News Release
 For Immediate Release
Abrakadoodle Welcomes New Franchise Owner Ceneetra Anderson
Art and creativity programs are arriving now at community sites and schools throughout Cincinnati
Sterling, VA, September 29, 2015– Abrakadoodle is bringing its award-winning creative, mobile art programs to benefit children and adults with the addition of its newest franchise unit in Cincinnati, Ohio. Abrakadoodle, with its global franchise headquarters in Sterling, Virginia is pleased to welcome this new location within the state of Ohio. New owner Ceneetra Anderson of Montgomery will be providing a wide range of art programs to include visual arts classes, camps, workshops, in-school field trips, special events and arty parties at schools, community centers, and other sites that serve children. The award-winning art education company has established strong academic art programs serving charter and faith-based schools, as well as some public school systems nationwide, and Abrakadoodle anticipates strong adoption of its programs in Cincinnati. Abrakadoodle also offers creative art programs and social art parties and events through its Art Splash program, which is designed specifically for adults. Abrakadoodle will be establishing programs at schools and sites throughout Cincinnati to include Deer Park, Finneytown, Indian Hill, Lockland, Loveland, Madeira, Mariemont, Mount Healthy, Norwood, Reading, St. Bernard, Elmwood Place, Winton Woods, Wyoming, Blue Ash, and Montgomery. Ms. Anderson plans to open her business October 1st.
"We are pleased to welcome Ceneetra to our award-winning Abrakadoodle franchise system," said Rosemarie Hartnett, CFE, President and Co-Founder of Abrakadoodle, Inc. "Ceneetra has an impressive education and possesses strong business skills, as well as experience working in school systems as a certified math teacher. We believe she will be highly successful in developing programs to serve her community with high quality programs in the greater Cincinnati area. "
Ceneetra Banks Anderson was born in Memphis and earned her bachelor's and master's degrees in civil engineering from the University of Tennessee, graduating in 1999 and 2001 respectively. Upon completing her education, Ceneetra worked as an engineer/project manager for the Federal Highway Administration until 2005. She is married and has had the opportunity to live and work in Austin, the St. Louis area, Columbus, Jacksonville and now Cincinnati. She earned her certificate to teach math and has also worked as a teacher and tutor. Ceneetra and her husband moved to the area two years ago and have a six-year old English springer spaniel named Callie. With a passion for arts & crafts and scrapbooking, Ceneetra said, "I understand the importance of art as part of children's quality education." In evaluating Abrakadoodle's curriculum, Ceneetra commented, "I was impressed with the structure of Abrakadoodle's lessons and how well it is crafted, as well as its ease of use." She added, "Abrakadoodle offers me the flexibility, freedom, structure and quality, as well as an opportunity to give back in my community."
To learn more about art programs or to bring Abrakadoodle classes and activities to your location, please go to https://www.abrakadoodle.com/oh-greater-cincinnati/ or contact Ceneetra Anderson, Education Director at canderson@abrakadoodle.com, 513-297-5655, or on Facebook as Abrakadoodle Greater Cincinnati.
Abrakadoodle was co-founded in 2002 by award-winning educator/franchise developer Mary Rogers, CFE, MA.Ed, and children's services franchising expert Rosemarie Hartnett, CFE. Abrakadoodle is the most comprehensive creativity and art education company of its kind, offering extensive visual arts classes, camps and parties for children ages 20 months to 12 years old. Abrakadoodle's Art Splash program features creative art parties and events designed for adult "artventurers." Abrakadoodle has received seven First Place Awards from Nickelodeon's Parent Picks Awards for "Best Art Program to inspire your child's inner Picasso." Abrakadoodle also received nominations for "Best Kids Party Entertainer" and "Best Kids Party Place." Visit www.Abrakadoodle.com.
# # # # #