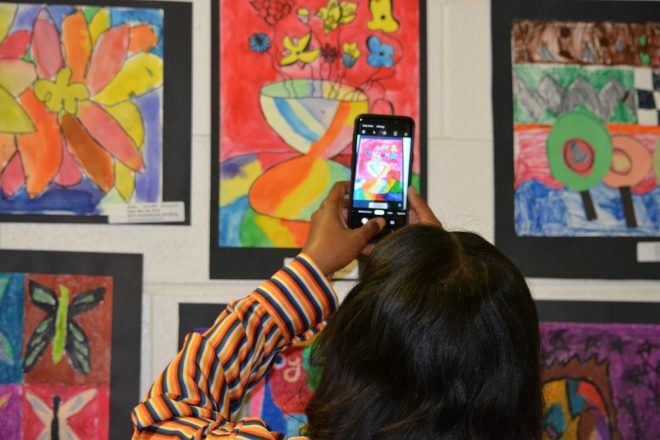 The Power of Displaying Children's Art Work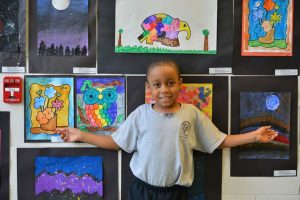 What better way to demonstrate the importance placed on the creative thinking of children than by prominently displaying their art work! Teachers who organize art shows know the positive impact it can have on a student's self-esteem. They know how it can build self-confidence and help students express themselves.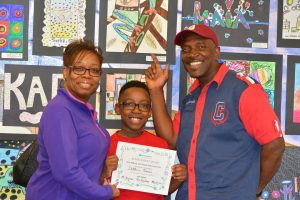 These creative teachers also know that it gives parents a glimpse into what their children are thinking and what they are learning. It is a great way to encourage communication and interaction with in families who attend an art show. It promotes questions, such as, "Tell me about your art work?" "What is the name of the artist who inspired you?" or maybe, "Wow!  How did you do that?" Often it encourages further discussion with visitors and family members at the dinner table or during a family outing to a museum, continuing the learning process into the home and the community.
Abrakadoodle of Detroit hosted its fifth annual Student Art Show & Reception at Voyageur College Prep High School on May 24. It was attended by more than 500 participants and featured student art work from 25 Detroit area Charter and Catholic Schools. Abrakadoodle Detroit partners with these schools as the art education provider during the school day. Abrakadoodle art teachers selected and set up the displays representing art from students in grades K-12. The pride on the faces of the participants demonstrated the genuine impact that quality art education – and the celebration of that art work – brings to students, families, teachers and the community! What a great way to honor the creative process!
Photos courtesy of Al Kelly, 2019.