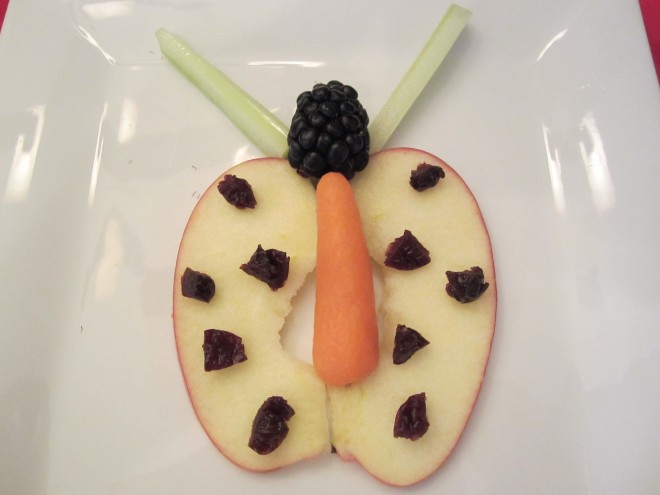 Three Creative, Hands-On, Low Tech Activities for Kids
As a parent, I've observed the powerful hold that tech toys, video games and cell phones have on children. I'm a big believer in balance, and so I have developed a list of low tech ideas that will engage your child in fun, inspired play. These types of activities give your children the power of imagination, which is wonderfully rewarding!
1. Create arty fruits and veggies~ who says eating healthy has to be boring? Your child can make edible art, offering creative fun that is also tasty! Consider making a butterfly.
Provide slices of apple in a bowl; gather some baby carrots (look for long and thin pieces) provide some blackberries or another favorite berry, and finally, cut up a bowl of thinly sliced, short celery sticks. You might wish to offer some embellishments, such as dried cherries that can decorate the apple wings. Arrange the edible insect using the photo as a guide.
2. Sculpt a pinch pot~ this is an activity for all ages, and it's easy to make! In fact, this is a great activity for your children because it helps to develop fine motor skills and muscles in the hand. All you need is some air-drying clay, such as Model Magic. A pinch pot is small, and so you do not need a large amount of clay. Your child can choose to make a little pot in any color, and when it's done, your child will enjoy adding artful design to his/her creation. Get started by rolling a palm-full of clay into a ball. Once the ball is nicely shaped, cradle the clay ball into your palm and press your thumb into the center. Note that some modeling clay will require more effort to shape. Once the initial dent in the center is made, then you gently squeeze thumb along with index and middle fingers, working the inside and outside as you expand the center. As you press and smooth in a circle, you will soon see the small pot as it takes shape. Make sure the wall of the pot is not too thin. Finally, you can simply draw a pencil design on the interior and/or exterior, or you can paint it in any color you like!
3. Sketch a storyboard ~ Kids love to use their imaginations, and they all have stories to tell. A storyboard is a way to outline ideas using mostly images. Whether your child imagines a new video game concept, a children's picture book with favorite items or simply wants to tell a story using mostly images, this is an activity that promotes visual literacy, creativity and self-expression. Your child can use a large art pad and experiment with image-mapping. Alternately, your child may enjoy using plain note cards to shape pictures into an expressive piece. Provide your child with pencils, colored pencils, crayons and/or thin markers. Give your child lots of space to spread out and work. Start with conversation. "Tell me about your idea. How do you think you want to create your main image?" For a younger child, you may wish to suggest shapes that will help him/her get underway.