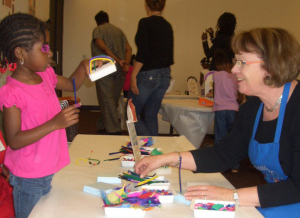 Process Art … Naturally!
MaryAnn Kohl inspires artful adventures for kids
"Kids need space to create," is the simple guidance that award-winning
author of art activity books MaryAnn Kohl offers to parents who are getting
involved in their children's arty play. Given freedom to explore and make
choices, children are more likely to use their own ideas in creating art. You
see, too often times, adults (parents and some teachers) project a sense of
what a finished piece of art should look like, which denies children the
opportunity to explore and create from their own imaginations, and to learn
from that exploration and discovering.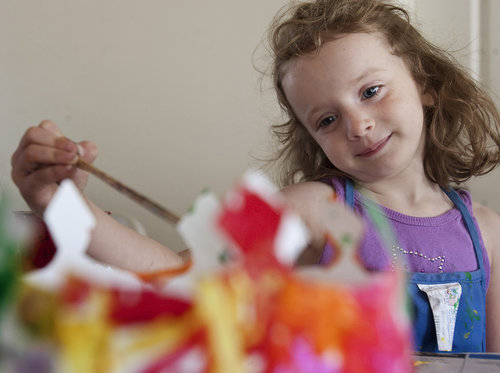 Why is process art so important? Kids learn as they explore art materials and the creative process of taking ideas from within and bringing them into existence. Art allows for trial and error from which authentic learning can take place. Art is open-ended and fosters individual expression and originality. When kids have the freedom to go through the process of creating art, they are happy and they are learning.
Process art is natural. You need only provide children with age-appropriate art supplies and blank paper, and the stage is set for arty adventuring. You may want to store art materials in shoe boxes or on conveniently situated shelving. "If you're doing that," Kohl says, "you're way ahead in the goal of inspiring learning through play."
MaryAnn Kohl of Washington State grew up in an artsy family. Her mom was a painter. Her dad was a book printer and was lead singer in a band. Her grandmother was published and her grandfather had a chain of bookstores. Kohl became an elementary teacher and incorporated her love of art into such subjects as math and science. After her first child was born, MaryAnn quit teaching and took up writing, which was always a lifelong passion. By 1985, MaryAnn started Bright Ring Publishing, which is still going strong today. She has written such best-selling favorites as Great American Artists for Kids, Mudworks, Preschool Art, the Big Messy Art Book, MathArts, and the Preschool Art series. She has downloadable e-books and free activities on her website. MaryAnn also writes for Gryphon House, Inc., and she is currently working on a new historical fiction novel.
Years ago, MaryAnn connected with Abrakadoodle at a NAEYC (National Association for the Education of Young Children) convention. She has presented at Abrakadoodle's annual national conference at the Crayola Factory. This year, she is presenting a process art workshop at Abrakadoodle's first-ever global virtual conference this May. "We share a common belief in the importance of active discovery learning through art," MaryAnn remarked. "I am delighted to reach out to Abrakadoodle's directors and teachers with an affirming professional development experience.""Art values and respects the individual uniqueness of a child," MaryAnn said. "If you help kids manage materials and promote exploration," MaryAnn commented, "you are creating a roadmap of your child's experiences." When smushing red into blue, your child discovers he produced purple. Kids love to see what will happen during the creative process. Mary Ann says that kids often ask her, "But what are we supposed to make?" She responds, "There is no right way; no wrong way; just your way." She says their eyes sparkle when they hear these words.MaryAnn explains that the first time a young child experiments with a new art material, don't expect a product. By the third experience with that art material, children refine their process and may strive to create a finished piece of art.Try it! Below are a couple of outdoors activities MaryAnn suggests for your kids to get into the natural "process" of art:
Arty plastic pool play
If you have a small plastic pool, line the bottom with blank white paper. Squeeze blobs of paint on the paper. Select round objects (fruit works great), and gently tip the pool so that the objects roll through the paint leaving prints
on the paper. Perhaps your child might like to add a hand or footprint. At the end, wash the fruit well, and enjoy a healthy snack!
Cloudy day impressions
Find a comfortable place for your child to lay down with a view of the cloudy sky. What shapes does your child see? Encourage free thinking. Next, set out some blue construction paper, and a pot of white paint with a paint brush. Invite your child to paint. It might be a very literal impression of what he/she viewed, but it might also be a whimsical interpretation. Remember to keep the experience open-ended. You child is in control of his/her art and will delight in the natural creative process!
Want to learn more about MaryAnn Kohl? Visit www.brightring.com.