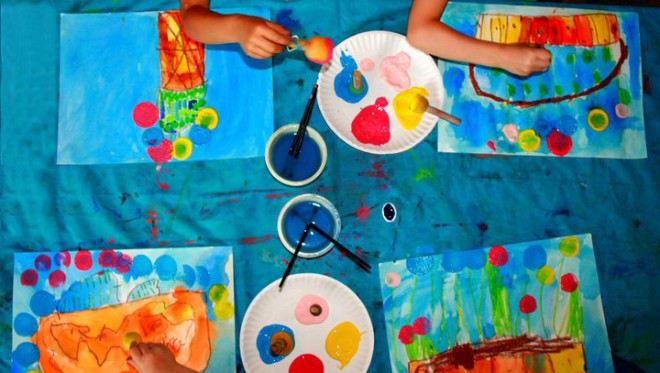 Montgomery Alabama Public Schools Hire Abrakadoodle Art to Teach Fourth & Fifth Graders
The concept of the traveling teacher is not new, but fourth and fifth grade students at 20 Montgomery Public Schools in Alabama will benefit from a groundbreaking relationship with global children's art education company Abrakadoodle, which is leading a renaissance in providing art education in the nation's public schools. Susan Parker, Educational Director of Abrakadoodle-Montgomery will bring Abrakadoodle's comprehensive, multi-arts program to approximately 3,400 students during their school day. Abrakadoodle was chosen because of its well-qualified teachers, richly imaginative curriculum and proven, innovative instructional methods.
Abrakadoodle's curriculum, which exceeds The National Standards for Visual Arts Education, provide hands-on visual arts experiences in painting, sculpting, drawing, creating mosaics and collage, as well as designing with paper, fabric and so much more. Students in Abrakadoodle art classes learn about a broad array of contemporary and classic artists, art forms, art styles and techniques, while also discovering art history and an arts vocabulary.
"We are experiencing our busiest and most exciting school year to date," exclaimed Susan Parker, Education Director, Abrakadoodle-Montgomery. "We have a unique situation in Montgomery, in that, there is little or no art education in our public schools. Our ability to be the integrated art education solution for the school system is an honor. Abrakadoodle's program is specifically designed to accommodate the needs of a large integrated program in a way one individual could not. Therefore, we are able to teach thousands of students simultaneously, while still meeting all standards of art education. Most of all, our students are eager and excited to have these new creative experiences. It is rewarding to know, that without our Abrakadoodle program, this number of students may not have had the opportunity to be exposed to visual arts. The look of enthusiasm and enjoyment on the students' faces reminds us all why we do what we do!"