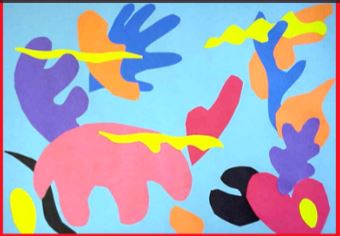 Fauvism: It's all about the color
We are all drawn to color but none more so than the Fauvists of the early 1900's, who created art that focused more on powerful colors than on the subjects of their artworks. In French, fauves translates to "wild beasts." Many believe that fauvism grew out of the impressionism movement. The fauvists used wild brush strokes, intense colors and abstraction. Henri Matisse is a favorite artist featured in Abrakadoodle's art program for children. His work, "Women with a Hat" is said to have given rise to the Fauvism movement. Matisse simply loved art and over his life he experimented with many styles, ending his career with wonderful paper cutouts, which students in Abrakadoodle art classes love to explore. Our students create original, Matisse-inspired artworks from their own imaginations.
Andre Derain was another French artist, who was a leading painter with the Fauves. Derain became friends with Matisse. He once said, "The colors were even dynamite cartridges to us." His artwork featured bright, flat colors with spontaneous brush strokes. He often painted landscapes.
Encourage your child to create a piece of art that is very colorful. You might add to the creative adventure by saying, "If you could make your tan colored dog or cat a color, what color or colors would you choose?" Let your child's little inner color beast out for some arty fun!