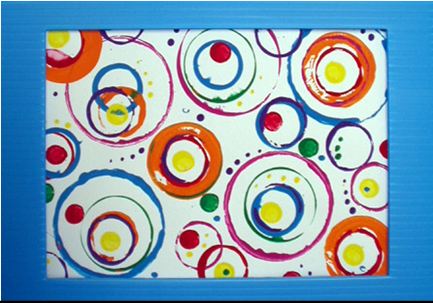 Expressionism: Sharing Your Emotions
The early 20th Century brought the world an array of experimentation in the visual arts, which included Expressionism. This art form had its beginnings in Germany, as artists were exploring new techniques that expanded beyond the Impressionism movement. "Der Blaue Retier" was a second group of expressionists, who used exaggerated imagery and lines, darker colors, wild brush strokes and depicted
emotion.
Paul Klee is an artist featured in Abrakadoodle's art program for children, and he was a notable Expressionist. Klee was born in Switzerland and played violin. Music was an important part of his visual arts creations. He later moved to Germany, where he joined with artist friend Wassily Kandinsky to teach expressionist technique to art students. Abrakadoodle art students enjoy creating art in Klee's style using simple lines and shapes with bold color.
Wassily Kandinsky is also an artist featured in Abrakadoodle's art program, and he, too, was an important artist in the Expressionist movement. Born in Russia, Kandinsky like Klee also moved to Germany to explore his passion for art. Children in Abrakadoodle's art program love to create art in Kandinsky's fun style.
Encourage your child to create a piece of art that expresses emotion. The expressionist style makes use of simple shapes, lines and bold color. For younger children, you can encourage them to work with one or two simple shapes of different sizes and thickness. Start with larger shapes and encourage your child to create shapes within shapes. Play with color and suggest your child to select colors that make him/her happy! Older children may wish to experiment with abstract expressionism by creating an image, such as the head shown above, that connects shapes to make an interesting image. For instance, a circle can be bisected and additional shapes can be added and emphasized with color. Art is such a wonderful way for children to express themselves!