Abrakadoodle welcomes veterans to its franchise team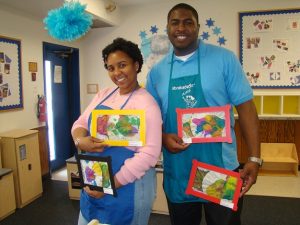 Three years ago while serving in Iraq, April Rose read a cover story about the Abrakadoodle art education franchise in Black Enterprise magazine that fueled her desire to pursue an artful future following her deployment. Hunkered down in a bunker amid rocket fire, she and her future husband imagined their new lives as arty entrepreneurs. According to April, she and Isaac talked about their plans for establshing their Abrakadoodle franchise every night. They are now launching their dream with award-winning Abrakadoodle and will be engaging children with creativity-boosting art classes, camps, parties and face-painting through its mobile art programs.
"We are so excited about how our program is going to transform children's lives in a positive way through the magic of creating art," said April Rose Jackson, Education Director of Abrakadoodle-Oklahoma City. "We had to work togehter a lot, which gives us an advantage as we launch our Abrakadoodle enterprise," Isaac noted of their Middle East deployment in U.S. Army logistics.
"The Jackson's have been the picture of patience these past few years," commented Rosemarie Hartnett, CFE, President & Co-Founder of Abrakadoodle, Inc. "We feel extremely fortunate to welcome these two enthusiastic, dedicated individuals to our Abrakadoodle franchise team. As industrious veterans who have served our country well, Isaac and April Rose bring not only an amazing work ethic but also a passion for art and education. This will be a great asset as they build their program at schools and sites throughout Oklahoma City."
April and Isaac met in 2009 while serving in Iraq, and then married in a suprise destination wedding Isaac planned in the Cayman Islands in January 2010. With a degree in graphic design from Jackson State, April also brings a passion for scrapbooking (she has her own blog: The Purple Scrapbook) and comes from a long line of creative family members. Additionally, April's mother was a grade school teacher for over 15 years before her death in 2000. Isaac has a degree in finance and plans to complement April's skills by handling the accounting, product inventory and financial aspects of the business. Isaac's mom is a school teacher in the Oklahoma Public School system, affording both he and April a special knowledge of the education industry. They both refer to the military as "family" and feel well-equipped to work within Abrakadoodle's franchise family.